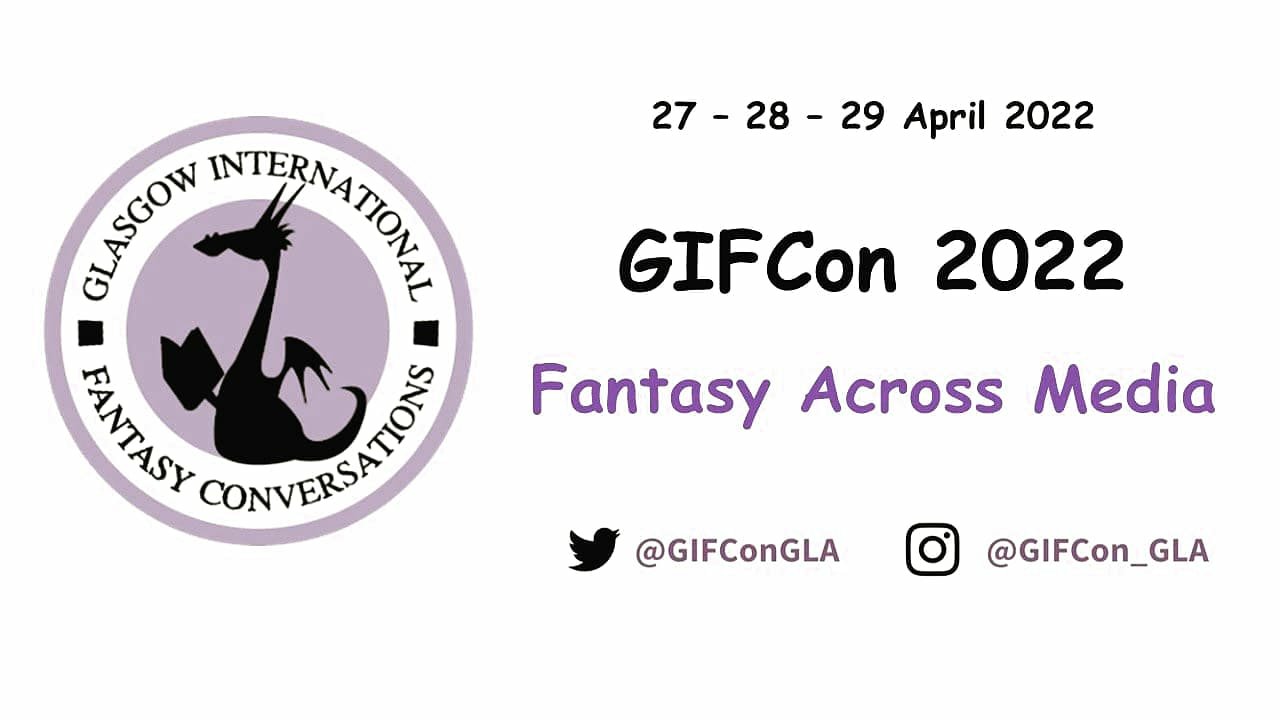 The Programme can be found here. 
Keynote and Roundtable bios are here.
Workshop Information can be found here.
Event registration here. 
This document is updated as needed.
Twitter
Instagram
Facebook
Discord
---
Panelists in alphabetic order:
---
Alexandra Gushurst-Moore
Abstract:
Space and Time in Visual Works of Fantasy: Towards a Methodology
This paper examines the presentation of space and time in visual works of fantasy in order to ascertain a core methodology for their discovery. It thus takes up George P. Landow's challenge to discern 'something, whether the reactions of a character within a literary work or some other device, [which] must signal us that we are to take certain elements as fantastic.' As the primary arbiters of reality, conceptions of space and time are fundamental to the construction of the real world within our individual and communal imaginations. It follows, therefore, that any attempt to create an evidently non-realistic "world" must subvert the realistic presentation of these two forces. This paper examines how space and time are presented within visual works of fantasy, drawing examples from the late nineteenth century British art to establish how the mode was developed within the work of artists such as Dante Gabriel Rossetti, Edward Burne-Jones, and George Frederic Watts in concurrence with the literary genre developing in the work of George MacDonald and William Morris. By this means, this paper presents a typology of three presentations off spacetime in visual fantasy: enclosure, density, and distortion, which serve as a framework for the designation of visual works of art as fantasy. Thus, by examining how fantasy artists manipulate space and time in their paintings, a better definition of the mode is ascertained, with ramifications for how we understand and interpret both fantasy art and literature.
Bio:
Alex Gushurst-Moore is a Research Affiliate at the University of York, where she has recently completed a PhD titled "The Making of Modern Fantasy in the Visual Arts of England, c. 1850-1920". She has lectured extensively on late Victorian and Edwardian fantasy art and literature and was recently a Louise Seaman Bechdel Fellow at the University of Florida. She holds degrees in English Literature and Art History from the universities of Edinburgh and Oxford.
Alfredo Mac Laughlin
Abstract:
Philosophy Quest! Using Fantasy in a Game-Based-Learning Philosophy Course
In this presentation I share my experiences devising and teaching a college-level Introduction to Philosophy as a full semester fantasy role-playing experience. The course introduces students to an epic fantasy narrative: the head of the kingdom is dying of a mysterious nihilistic illness, and bands of "adventurers" (each a team of 4-5 students) compete to discover a viable "meaning of life" that may save the kingdom. The adventurers then travel the land, encountering historical figures representing specific philosophical views. Each class presents the students/adventurers with a new challenge that is done in a game format (riddles, scavenger hunts, puzzles, even a simplified D&D session), which introduce the students to philosophical concepts (theory of knowledge, meaning of life, wonder, nihilism, individualism, communitarianism, Aristotle's "golden mean" and so forth). While there is a graded element, the course design draws on the students' playfulness and competitive spirit as the central motivation to complete course objectives. The presentation may be of general interest as a non-traditional, interactive use of fantasy themes, and may be of particular interest to scholars and teachers interested in game-based learning as a non-traditional teaching technique.
Bio:
Alfredo Mac Laughlin was born in Argentina and got his Ph.D. in Philosophy at Loyola University Chicago. He teaches philosophy and applied ethics at St. Ambrose University in Davenport, Iowa. He is Editor of the Journal of Science Fiction and Philosophy (jsfp.org) and co-editor of the International Journal of Fantasy and Philosophy (ijfp.org).
Alice M. Kelly
Abstract:
Dark Swans: Otherness, Queerness, and Femslash Reimaginings
The 'Swan Queen' ship from the television show Once Upon a Time (ABC, 2011-2018; Disney+, 2021-), pairing Emma Swan and the Evil Queen (Regina Mills), has inspired the most prolific fan writing community for a femslash ship featuring a character of colour for the last 7 years (centreoftheselights). Despite this, and in keeping with the persistent neglect of femslash fandom and fandoms of colour, this ship has thus far received little scholarly attention outside of (and even within) fan studies. This paper highlights the pertinence of 'Swan Queen' fanfiction to both queer and fantasy scholarship, by looking at how fan authors treat the figure of the 'Dark One' in OUAT – a figure exemplifying mainstream, Anglophone fantasy's reliance on the dark margin to cohere whiteness as goodness (Thomas 2019, 37). In OUAT canon, the white saviour, Emma Swan, becomes the 'Dark One' (or 'Dark Swan') to save a very white town (and text) from an even more deeply endarkened, or re-endarkened, dark other (the reformed Evil Queen, played by the only main cast member of colour, Lana Parrilla). 'Swan Queen' fans, however, reimagine this plot point romantically, as an act of true love. Abandoned at birth by her parents, Snow White and Prince Charming, to fulfil her destiny as saviour, Emma, like Regina, has also been marginalised and victimised by the supposed benevolence of white heroism's moral codes. 'Swan Queen' rewrites of Emma's sacrifice contend that her own experiences of (class-based) Othering mean she can survive and even embrace the dark margin, making Regina not the irredeemably lone Dark Other, but a person who deserves saving from the burden of more darkness. Whether parodying the homophobic associations of queer villainy or confronting histories of abuse, the folkloric plurality of the Dark Swans of Swan Queen fanfiction represent queerer fantastics.
Bio:
Alice M. Kelly is a Fellow-in-Residence at the University of Oxford's Rothermere American Institute working on queer forms of temporality and embodiment in femslash fan works (fan-authored narratives pairing female characters from pre-existing literature and media in romantic relationships). She has published widely on the relationship between queer female fan cultures and lesbian literary history in Transformative Works and Cultures, LIT: Literature, Interpretation and Theory, The European Journal of English Studies and Studies in Popular Culture. Her first monograph, Decolonising the Conrad Canon, brings together adaptation, fan, feminist, queer and postcolonial studies to interrogate the construction of the colonial literary canon (Liverpool UP, Feb 2022a). She is currently working on her second monograph, Once Upon a Queer Time: Femslash, Fairy Tales and Swan Queen Fanfiction, which presents a new theory of queer, fan, and fantasy time based on fanfiction from the internet's biggest femslash fandom of colour.
Amanda Zilla
Abstract:
Meta-television as Structural Tool: The Creation of Metafantasy in Marvel's WandaVision (2021)
"WandaVision adheres to the fantasy genre through its incorporation of the supernatural, magic, the presence of fantastical phenomena in the development of plot and the spatial storyworld, and the struggle between the forces of goodness and evil (Herman et al 160-1). However, it is the inclusion of meta-television as a structural technique within the limited series which cements its classification as metafantasy. This paper will explore the manner in which meta-television works to construct metafantasy by producing multiple parallel planes of reality within the narrative world. These planes include the fantastical television-inspired version of Westview and the text actual world beyond the transparent boundary, which is, a fictionalized New Jersey spatialized within the Marvel Cinematic Universe (MCU). , Each episode of the limited series is inspired by popular television shows from bygone decades. This paper will examine how the choice in sitcoms, their translocation of character and audience to these time periods and the characteristics of each era of sitcom television facilitate the creation of fantasy within the already fantastical storyworld. In the televised version of Westview, the dead have been resurrected, children have been conceived between humans and sentient beings, and inhabitants live their lives as predicated by their sitcom identities and roles. Beyond the boundary, attempts are made to prevent any further threat from villains with superhuman abilities, and America tries to grapple with the resurrection of individuals who died as a result of Thanos' snap, an act referred to within the MCU as the "Blip". This paper will also examine the ways in which radio waves and electromagnetic signals build portals between the possible worlds of the series and between series and audience. This allows for fantasy to be created and unraveled for characters and viewers. Works Cited Herman, David, et al., editors. Routledge Encyclopedia of Narrative Theory. Routledge, 2010.
Bio:
Amanda Zilla is a PhD Literatures in English candidate at The University of the West Indies, St. Augustine, Trinidad. Her research interests include virtual reality technology, transmedial narratology, and the adaptations of Caribbean literary texts into new media formats. Some of her publications and conference presentations include "Khaled Hosseini's Sea Prayer: Virtual Storytelling and 'User Response' in Fictionalised Migrant Narrative" & "Adapting Caribbean Literary Texts into Virtual Reality: A 'User-Response' Approach".
Anika Klose
Abstract:
I Am The Monster You Created: Deconstructing The Monstrous Other in Andrezj Sapkowski's The Witcher Adaptations
The well-established link between women and monstrosity permeates different media, but is especially notorious in video games. When female characters aren't infantilised damsels in distress in need of a male hero, they are often monstrous and/or hypersexualised. The horror arising from the female Other disrupts the symbolic order and is rejected by the patriarchal normative, which is why the women must always be slain by the male protagonist, who punishes them for their unchecked sexuality and power. But this phenomenon is not linked to video games alone, as is demonstrated by Andrezj Sapkowski's The Witcher. Recent adaptations that include the Netflix series of the same name, several video games, and the most recent anime The Witcher: Nightmare of the Wolf showcase how the three versions clash when it comes to the topic of monstrosity. Not only do I want to explore how each medium depicts female bodies and their links to monstrosity, but also their oscillation between hybridised binaries such as "half-alive, half-dead, […] obscurely/obviously repellent specter/creature" (Hogle). While horror media usually only feature a handful of monsters that disrupt the symbolic order, fantasy worlds frequently offer entire monster civilisations that populate the world. "In this sense, monstrosity is normalised in science fiction and fantasy […]" (Stang). Despite the fact that Geralt as a witcher is coded as a monster himself, the three forms of adaptations take contrasting stands on (female) monstrosity in order to tackle their target audiences. Therefore, I will focus on a comparative analysis between all three adaptations elaborate on the pressing questions that arise and deconstruct the binaries: who should be feared? Who should be locked up? And who is truly monstrous?
Bio:
Anika Klose is an undergraduate student in media in culture science at the Heinrich-Heine-University in Dusseldorf, aspiring to complete her B.A. thesis in summer 2022. As an illustrator and student assistant, she is currently involved in the project "Charting the Australian Fantastic", lead by Bettina Burger and Lucas Mattila. Within the frameworks of the project, Anika Klose published two blog posts on Australian speculative fiction and held her own lecture on Jay Kristoff's Empire of the Vampire.

Anthony E. Dominguez
Abstract:
Split-Screen(s): Interfacing with Shibuya in The World Ends With You
In 2007 Square Enix released the action role-playing game The World Ends with You for the portable Nintendo DS console. Players take on the role of Neku Sakuraba, a teenager drawn into the Reapers' Game, a weeklong competition where participants must fight to survive. The battle system emphasizes using both screens of the Nintendo DS by allowing players to control two characters on the top and bottom screen respectively. Although The World Ends with You received critical acclaim, reviewers also found the battle system too frustrating. Later versions of the game, including a 2012 iOS and 2018 Nintendo Switch port, retweaked the battle system so as to fit on one screen. Yet, in shifting combat to one screen, these later iterations of The World Ends with You lack the complex relationship players build between themselves and to the game's setting, the Shibuya ward in Tokyo, Japan vis-à-vis screens. In utilizing Shibuya, The World Ends with You integrates elements of Japanese youth culture into its gameplay, such as fashion and food which are used to enhance the player's stats. Real locations from Shibuya also serve as locations in-game, such as the 109 department store. Often compared to Times Square, Shibuya's own screens mediate the experience of Shibuya as a place of excitement and possibility. I argue then, that in emphasizing the locale of Shibuya in setting by engaging players through dual-screen technology, The World Ends with You mimics the shattered spatio-temporal subjectivity offered by urban screens. Consequently, the Nintendo DS console itself becomes a portable "node" of Shibuya, similar to the famous Hachiko statue or Tower Records. Yet, the Nintendo DS also exists as a a node between the boundaries of real and virtual space thereby reorienting our understanding of the local and global.
Bio:
Anthony Dominguez is a PhD candidate in Cinema Studies at NYU Tisch. He holds an MA in Film Studies from The Graduate Center City University of New York, and a BA in English and Film from the University at Albany. His dissertation focuses on Times Square, and the influence of global capitalism on public space, architecture, corporate advertising, and military powers. His research includes urban screens; Japanese media; and the late-cinema of Jean-Luc Godard.
Anna Milon
By My Hand Alone: Augmenting Live Action Role-Play Experiences through Writing.
In response to the conference's call to explore fantasy and the fantastic beyond the printed word, this paper focuses on fantasy Live Action Role-Play (LARP), a hobby that uses improvised collaborative storytelling to create an immersive world that players operate in. Despite the intangible nature of the LARP experience, written word is insidious within it. This paper explores both diegetic (letters written by characters) and non-diegetic (fanfiction written by players about their characters) written text in the Curious Pastimes LARP system. , While Role-Playing Games are often multimedia endeavours, they can be read as hypertexts which build on a printed source, such as a rulebook, and refer to popular media consumed by the players. Interpreting RPGs as text, Jessica Hammer proposes a three-tier system of authorship, where the primary author is the world-builder, the secondary author is responsible for the events that occur in the world, and the players are tertiary authors that create a text through playing the game. However, the presence of texts written by players suggests the existence of a fourth tier of authorship: one where players augment their experience of the game through the medium of written text. This paper explores the impact of these textual artefacts on gameplay and their influence on LARP as hypertext.
Bio:
Anna Milon is a third-year PhD student at the University of Exeter, where her project focuses on the Horned God in modern fantasy fiction and Live Action Role-Play. Anna holds a BA in English Literature from Royal Holloway, University of London, and an MA in Medieval Literatures and Languages from the University of York. She sometimes reviews speculative fiction for the Libri Draconis blog and has a penchant for silly hats. Her paper was in no small part inspired by the many Role-Play letters she both sent and received during lockdown.
Arusharko Banerjee
Abstract:
A Study in Non-Anglophone Fantasy Literature: Graphic Re-presentation of the Mahabharata Mythology
Countless works by Indian authors have variously re-imagined, or re-worked the mythological tales presented through the great Indian epics, namely the Ramayana and the Mahabharata. However, various contemporary Indian authors, most notably Amish Tripathi, Kevin Missal, Kavita Kane, Ananda Neelkantha, and Ravi Shankar Etteh besides re-working and re-presenting the mythological tales of the Ramayana and the Mahabharata, have also liberally added various popular science fiction and fantasy fiction tropes to their novels. Not only has this helped in adding new critical perspectives to these Indian epics; but also made these ancient tales extremely palpable to the young readers. With this in purview, the following paper wishes to look at two contemporary Indian re-workings of the Mahabharata, in the form of graphic novels, namely Shibaji Bandyopadhya's Vyasa, and Amruta Patil's Adi Parva and Sauptik. At the very outset the paper examines how and in what significant way does the medium of graphic representation significantly contribute in making the Indian epic Mahabharata very popular among the young Indian readers? In addition to this, the paper also wishes to examine, how representing various facets of the Mahabharata mythology have been deliberately represented in these graphic novels, using similar techniques used in fantasy fictions. Finally, the paper also wishes to throw light upon the fact, that how these graphic novels have been heavily influenced by the contemporary cinematic representations of superheroes, such that the epic heroes of the Mahabharata have been re-presented with touches of fantastical / science-fictional elements (such as having bionic arms or futuristic eye-pieces). Thus, the paper wishes to unravel how contemporary, non-Anglophone, fantasy literature, through its experimentations in genre and media, have significantly altered the art of story-telling.
Bio:
The author is presently employed as a lecturer in the department of English at Kidderpore College, Kolkata, West Bengal, India. The author holds a Master's degree in English from Jadavpur University, and an MPhil degree in English from Viswa-Bharati, Shantiniketan.
Barbora Kaplánková
Abstract:
One of These Things Is Not Like the Others: Princess Cursed in Time and The Issue of Czech Fantasy
The Czech film lacks in large, culturally influential fantasy franchises akin to Harry Potter, but we are rich in films fitting into one particular category under the fantasy umbrella – the fairy tale film. Thanks to its long tradition the Czech (and Slovakian) culture houses countless princesses, princes, witches, water spirits, devils and exceptional commoners, often entangled in morally educational adventures, with a political allegory or two. And to this day, a new fairy tale is delivered every year on Christmas in prime time on TV, next to fairy tales that are several decades old and still very well loved. Interestingly though, the use of the term "fantasy" in relation to these films is virtually non-existent. The most prominent examples of Czech fantasy are seemingly not being considered as such at all, judging from the media commentary and various Czechoslovakian film databases and online archives. That is, until Princess Cursed in Time (2020). This film bears the fantasy label on the Czechoslovakian Film Database, together with the fairy tale one, and that is the main subject of this paper. I aim to find out what differentiates Princess Cursed in Time from "just" fairy tales (and so what prompted this difference in labeling) and what this could tell us about the relationship between these two terms in the Czech filmic landscape. I approach these questions by means of analysis of the film itself and its relation to fantasy, and of the media commentary focused on this film and the categories of filmic fantasy and fairy tale in general. Given that Princess Cursed in Time came along shortly after The Hastrman, which was a quite rare example of local mainstream fantasy for adults, I believe it could be considered yet another step in a new direction for Czech fantasy.
Bio:
Mgr. Barbora Kaplánková (*10. 10. 1994) attends a PhD. programme Theory and History of Theatre, Film, Radio and Television at Palacký University in Olomouc, Czechia. She graduated from a master's programme (Film Studies and Television and Radio Studies) at said university in 2020. In her dissertation Barbora focuses on representation of binary gender in contemporary fantasy film franchises. She is interested in fantasy, horror, children's film and animation, and so far contributed to two publications with articles on animation – one focused on work of Jan Švankmajer, the other on current events in the Czech film industry (2018).
Bettina Charlotte Burger
Abstract:
From Trickster to Villain to LGBT icon – Loki God(dess) of Mischief Across Media
In 2016, the Babadook, the eponymous monster of a 2014 Australian horror movie, was adopted as an icon by the LGBT community, and he remains perhaps the most famous monster/villain celebrated by LGBT fans, but he is far from the only one. The tendency to latch onto (often monstrous) villains in particular as a source of queer representation can be partially explained by a troubling history of queer-coding villainous characters in popular media. There are, however, multiple ways for a villain to become an LGBT icon, so to speak, including those where queerness is more explicitly present in the source material or where queer representation has been increasingly adopted by both official content creators and fans. In my talk, I want to explore how the character of Loki has changed and continues to change in terms of queerness as he travels across media. Within the Marvel universe (both cinematic and otherwise), the depiction of the Norse God of Mischief has undergone significant changes, perhaps fittingly for a literal trickster figure. I will mainly analyse Loki's appearances in the MCU, in the collection Loki: Agent of Asgard, in Mackenzi Lee's Young Adult novel, Loki – Where Mischief Lies, and in the trickster's newest media appearance, the 2021 Loki series, to see how Loki's queerness is alternatively read into the source material, embraced by it, or ambiguously hinted at. I will focus on how the representation of queerness changes from medium to medium and how these changes relate to a medium's specific affordances or to changing acceptance of queerness within target audiences. Additionally, I will also take into account how Loki's original queerness, stemming from the gender fluidity exhibited by the Norse god in The Poetic Edda, has contributed to Loki's portrayals across media.
Bio:
Bettina Charlotte Burger is a research assistant, lecturer, and doctoral candidate at the Heinrich-Heine University of Dusseldorf. Their dissertation argues that fantasy literature ought to be considered as world literature in its scope and that world literary readings of individual examples of world fantasy are highly productive as well as necessary. They have co-edited a collection on Nonhuman Agencies in The Twenty-First-Century Anglophone novel as well as several articles in the field of speculative fiction. Additionally, they are a Digi Fellow and project co-leader for "Charting the Australian Fantastic", for which they produce Open Educational Resources.
Caighlan Smith
Abstract:
A Hero's Morality Play: Epic Fantasy Heroes and Morality Mechanics in Video Games
In considering Epic Fantasy, Tolkien inevitably comes to mind, alongside other more modern popular works such as Martin's A Song of Ice and Fire or Jordan's The Wheel of Time. But what happens when the narrative tropes represented by such Epic Fantasy stories are channeled through the medium of video games? How does the story and the consumer's reaction to the story change when the consumer is required to step into the shoes – or take up the sword – of the Epic hero themselves? In this presentation, I seek to analyze the ludonarrative operations (how gameplay and narrative work together to create the gaming experience) of several Epic Fantasy games which employ either explicitly or by implication morality mechanics through player in-game choice, such as the Fable series (2004-2010), the Dragon Age series (2009-2004), and The Elder Scrolls V: Skyrim (2011). I expose how allowing the player moral choice within such narratives might enhance player engagement to the narrative they are personalizing, but at the risk of disengaging players from the ethical implications of the choices they have made. To engage in morality mechanics through Epic Fantasy video games complicates player ethical involvement as (1) the fantastical setting places moral scenarios a step away from "reality" and (2) the player's assumption of the hero role in these games often goes unchanged despite player actions; a player can lie, cheat, steal, murder, and still narratively retain the role of heroic savior in the main plot. This paper therefore seeks to investigate how the video game consumer's moral playing of the hero – as opposed to the literature or film-consumer's moral judgement of the hero – can change perhaps not the overarching glory of the Epic Fantasy hero plot but, and perhaps more insidiously, the day-to-day living as a hero in a virtual fantasy world.
Bio:
Caighlan Smith is a PhD student with the English Department of Memorial University of Newfoundland, holding a B.A. (Hons.) in English from Memorial University and an MLitt (with Distinction) in Fantasy from the University of Glasgow. Her current research interests include power dynamics, gender, monstrosity, fantasy, and hero narratives in video games.
Carmen Hidalgo-Varo
Abstract:
Bridging Fact and Fiction through the Internet: Jasper Fforde´s Narratives
One of the most outstanding characteristics of Jasper Fforde´s novels is the combination of different genres, such as Science Fiction, Dystopia, Uchronia, Satire or Fantasy, which he complements with huge amounts of verisimilitude and references to the outside-of-the-novel world. Besides, Fforde also has a website (www.jasperfforde.com) which, beyond being a platform for keeping readers updated with news, new books and upcoming events, also serves as an extension of his literary worlds. Readers who want to get extra features and information about any of the characters (e.g. there is a biography extension of the protagonist in The Eyre Affair, Thursday Next), places, companies (readers can access the website of one of the companies inThe Eyre Affair, the Goliath Corporation), celebrations, etc. in the novels, just have to dive into the Ffordian website. Using Gerard Genette´s well-known terms, it can be said that, within most of Fforde´s fiction, there are three levels of narration: the diegetic level, the metadiegetic level, and the extradiegetic level, which is outside the fictional world itself (225). According to this distinction, the aforementioned website is located within the extradiegetic level, since it does not belong to the fictional worlds. However, this websitein itself also possesses this narratological structure because Fforde extends the narration of his novels into the web. Thus, in the present paper, I want to explore how the Internet (his website) is the bridge between his books, the characters, and readers; also possessing an internal narrative organization that is interrelated with the one found in the novels, which creates a "double-sided" narration: the Internet is used as a tool for enriching the fiction that, otherwise, would "die" at the end of the books. Furthermore, I expect to conclude that Jasper Fforde creates several levels of narration that co-exist and depend on each other, even though they are found in different realms of narration.
Bio:
Carmen Hidalgo-Varo is a second year PhD student in Science Fiction and Social Engagement at the University of Granada, Spain. She has been awarded with an Arqus European University Alliance scholarship to carry out a research stay at the University of Graz (Austria), where she will stay until February 2022. Her main research interests include Science Fiction, Speculative Fiction, Postmodernism, Posthumanism, Social Engagement and Popular Literature. She is at present the co-moderator of the Writing Group of SAAS (Spanish Association of American Studies) Young Scholars and member of the research group GRACO: Studies in Literature, Criticism and Culture (HUM676) of the University of Granada.
Carrie Spencer
Abstract:
From Side-line to Storyline: How the Inclusion of Parents on Supernatural Adventures in US Teen Telefantasy is Changing Constructions of Adolescence
My paper will explore evolutions in televisual and narrative strategies of US teen fantasy television series since the 1990s through considering the shifting portrayals of parent-adolescent relationships. I utilize the culturally constructed, and therefore contingent, category of "telefantasy" (Johnson 2005) to explore the generic hybridity and continuous development of tropes, techniques and conventions in US teen fantasy series. Specifically I analyse "fantastic realism" in which fantastic (supernatural or alien) events or characters occur in a recognisable world but, crucially, in which "fantasy is not absorbed into reality; it remains strange and impossible either to the reader, or to the character it affects" (Waller 18). Fantastic realism demands attention to both socio-cultural conventions and unexpected external disruptions, fuelling the continuous development of genre combinations, visual styles and narrative strategies. To aid my analysis I apply the poetics of "complex TV" (Mittell 2015) developed in US programs since the 2000s to demonstrate that teen telefantastic-realism has progressively de-emphasised "teen issues" and the use of the fantastic as metaphor for the changes, power and marginalisation experienced by adolescent protagonists. To explore how US teen telefantastic-realism has evolved its televisual and narrative strategies for representing the "strange and impossible" within a recognisable textual world, I delineate the changing role of parent characters from attempts to be supportive (Buffy the Vampire Slayer) or provide guidance (Smallville), to involvement in adolescents' battles against the supernatural (Teen Wolf), to parent and adolescent characters fighting alongside each other, each with their own supernatural storylines (Stranger Things). I argue that the development of US complex teen telefantastic-realism emphasises social issues and moral questions in response to the unexpected, reconstructing both adolescence and adulthood as uncertain and contingent. Through ongoing narrative negotiations of everyday expectations and "impossible" disruptions, US teen telefantastic-realism can offer reconstructions of socio-cultural and generic expectations.
Bio:
Carrie Spencer is a PhD researcher at the University of Cambridge (UK) applying care ethics to portrayals of Mad and 'mentally ill' mother characters in Young Adult literature. Carrie's work on Maggie Stiefvater's YA fantasy Raven cycle appears in Images of the Anthropocene in Speculative Fiction: Narrating the Future, Tereza Dědinová, Weronika Łaszkiewicz, Sylwia Borowska-Szerszun (eds), 2021. Her current work under review includes research on care ethics and masculinities in the Teen TV series Teen Wolf , and narrative patterns of bi-negativity in US YA novels of the past ten years.
Christopher Lynch Becherer
Abstract:
Schisms in the Discworld Fandom, or, Who Watches The Watch
The BBC series The Watch (2021) was the first major adaptation of Terry Pratchett's Discworld novels for television. Coming to the screen six years after Pratchett's death, the series was eagerly anticipated by fans, particularly as it focused on one of the most beloved strands of the Discworld: the bumbling and ineffective Night Watch. As casting announcements and publicity photos trickled out, however, and it became clear the series would depart dramatically from the original books in both look and tone, anticipation turned to nervous and critical speculation. My paper will examine the lead up to the first episode, deconstructing the fraught discussion within the fandom: while still in its chrysalis state, the BBC's adaptation existed as a Rorschach test for what the Discworld can or should be in 2021. In the few short years following Pratchett's death, the BLM movement and ACAB discourse cast a critical eye over representations of police in culture, and the culture wars over gender identity put a spotlight on the casting of a non-binary actor in the role of Cheri the Dwarf. In response, my paper will examine the letters pages of the Discworld Monthly, a long running online Discworld newsletter, particularly the exchanges provoked by a problematic letter bemoaning this new 'woke' adaptation of Pratchett's work. Deconstructing this letter, and the responses to it from both readers and editors, allows us to reflect on the schisms in Pratchett's huge international fandom. How can a supposed fan of Pratchett's famously humanist works write a letter including racist jokes? How can the editors of this devoted newsletter dismiss angry reactions by stating that all opinions are valid? I will argue that reading the readers allows us to better examine how fantasy worlds continue to change and evolve long after the final page.
Bio:
Chris Lynch Becherer is a PhD student at the University of Glasgow, studying Terry Pratchett's Discworld series. Awarded the 2015 Thomas Reid Bursary, he was the co-editor of the creative writing journal From Glasgow to Saturn from 2015 to 2016, and co-founder of the 2017 Glasgow International Fantasy Conversations symposium. in 2021 he co-founded the fantasy theatre company Puck's Players!
Devika Mehra and Supriya Baijal
Abstract:
Fantasy, Nation, and the Hindi televisual space: A Study of the T.V. Adaptation of Devki Nandan Khatri's Chandrakanta
This paper will investigate the implications of adapting a 19th-century epic fantasy Hindi novel for a post-liberalization Hindi society. Various scholars like Francesca Orsini, Arthur Dudney, Bharti Arora, and Aman Kumar have explored the combination of the dastan (storytelling) tradition, the fantastic Western literary tradition, and the experiments in Hindi literary prose during the colonial period. As Alok Rai points out, Chandrakanta represents a certain type of Hindu, and not Hindi, nation-state, yet the novel is strongly influenced by the Urdu dastan tradition with its references to Ayyars (spies, tricksters) and Tilism (sorcerer's craft) as well as the ancient dastan of Amir Hamza. It is interesting to note the influence of this epic fantasy novel on the social fabric of Indian society through its various media adaptations since the 1990s. The 1994 adaptation comes with the advent of the satellite T.V. network, the upward mobility of the middle classes, and the developments in the T.V. serials' narrative configurations. Just as the novel Chandrakanta was a modern Hindi best-seller, the 1994 T.V. adaptation is significant for its fame and cult following. The various shifts in the contemporary adaptation highlight two strands. Firstly, it represents an intrinsically Indian fantasy literary tradition rooted in modern Hindi prose and ancient Urdu dastan. Secondly, it mirrors the construction of nation and culture in Hindi T.V. serials. These shifts provide a new meaning to a pre-modern text and an older oral narrative tradition. The work is significant in its usage and influence of the oral, the print, and the televisual. Key Words: Dastan, Modern Hindi literature, Hindi novel, epic fantasy, Hindi T.V. serial. References: Rai, Alok. Hindi Nationalism, Tracts for the Times 13. Orient Longman, 2001.
Bio:
Dr Devika Mehra is a research associate in the School of English Literature, Language, and Linguistics at Newcastle University, UK. Her research interests include a study of cross-cultural connections across different cinematic traditions, issues of marginalisation and diversity in contemporary global children's fiction, children's visual and digital cultures. She has published and presented internationally in these areas.
Ms Supriya Baijal is a research scholar in the Department of English Studies at Dayalbagh Educational Institute. Her research interests are children's literature, literary theory, and texts of popular culture. She has recently presented a paper at Children's Literature and Digital Humanities, the University of Antwerp 23rd-24th October 2020 and Samuel Beckett and the Anthropocene, Trinity College Dublin 4th-5th December 2020.
Dipanwita Paul
Abstract:
Durga Meets The Avengers: How Fantasy Texts are reimagined in the religious festivities of Bengal
Durga Puja, an autumnal Hindu religious festival celebrating the victory of the ten-armed goddess Durga over a buffalo demon, has emerged as a leitmotif to the global Bengali populace. The ten-day-long celebrations ranging from dedicated tv and radio programs, ritualistic retail practices, government endorsements, elaborate festivities with award and felicitations sponsored by corporate giants to venerate competing ""clubs"" and ""associations"" for producing the most innovative idols and pandals for the goddess, has developed into a billion dollar industry. ""Themed"" pandals and idols (colloquially known as ""Theme Pujo"") have become astronomic specimens of competitive showmanship where thousands of artists, artisans, technicians, etc. collaborate to crystallize the most unique and extravagant ideas, to draw lakhs of awestruck visitors every year. Despite being an ethnocentric religious festival, superheroes, wizards, Disney princesses pop up alongside the Goddess in some fictive consanguinity. Characters and scenes ranging from global fantasy giants like Harry Potter, Star Wars, Avengers, etc. not only appear as mere decorative pieces, they inspire newer, different narratives which even Durga partakes, to reinterpret the ancient religious myths and motifs. Therefore this paper traverses through decades of such ""Theme Pujas"" to investigate the negotiations and spatial relations in which the ancient Hindu religious rituals and these fantastic texts cohabit without hindering the religious ethos and sentiments of the local believers, worshippers, and spectators. The paper would also bring up the local narratives that have been woven surrounding the superheroes and wizards that may never reach the literary and filmic canon but have been enough to leave the quotidian local populace, with no awareness or exposure to the feats of Potter or Parker and yet welcoming them in their own homes, through their homegrown stories.
Bio:
Dipanwita Paul is a Queer Feminist-Activist, and a Graduate student of Jadavpur University (Kolkata), Department of English. They are a member of Women Against Sexual Harassment, and Das Theke Das Hajar, both forums combating sexual harassment in the workplace, and has been active participants in the Feminist, Queer Rights, Caste-Based, and Anti-CAA, NPR, NRC movements in India.
Douglas A. Van Belle
Abstract:
Metal as Medium: An Artisan Bladesmith's Insights into the Fantasy of Magical Weaponry
Over the last half century, blacksmithery has rebounded from a trade on the verge of extinction to become a vast and thriving international artisan community, and in that rebirth, countless lost methods and techniques of the bladesmith have been rediscovered, or reinvented. Putting these formerly lost elements of the craft back into practice, particularly when considered in the context of a modern understanding of metallurgy, suggests that many characteristics of mythological weapons may be well-grounded in reality. Back when the formulation of iron and steel varied tremendously and unpredictably, even within a single batch made from a single source of ore, and working that steel was as largely an art that was cloaked in secrets and the inexplicable knacks and tricks that practitioners had developed through trial and error, legendary weapons may simply have been the product of occasional convergences of the right trace elements in the steel with the techniques that happened to maximise the qualities of that base material. Similarly, many aspects of fantastical weapons that is often ascribed to magic, such as an unnatural gleam or even a blue 'glow,' may reflect common, natural variations in trace amounts of nickel, cobalt, chromium or other alloying metals. Other 'magical' characteristics of weapons, such as the belief that a blade had an ego of its own, may simply reflect the challenges inherent in producing a long, thin blade. One of the more common impressions that inevitably arises in process of hand-forging a long blade is that the steel itself will seem to have a mind of its own. It is almost as if the blade is determined to take on a certain shape. These and other possibilities are explored by reflecting anecdotes and insights gleaned from forge upon the common tropes of fantasy and myth.
Bio:
Dr. Douglas A. Van Belle is a Senior Lecturer of Media and Communication at Victoria University of Wellington, a science fiction and fantasy novelist and screen writer, and the owner of Pleasantly Insane Forgery of Ohau, New Zealand. His academic research ranges from media's effect on the politics of war and crisis, to the role of speculative fiction in the relationship between science and society. As a bladesmith he is known for producing custom designed knives for professional chefs around the world.
Eilidh Harrower
Abstract:
"I'll see you again in 25 years" – Liminal Boundaries of Genre, Time and Plot in 'Twin Peaks
'Twin Peaks' was created by David Lynch as a commentary on television of the late 80s in which cop dramas and murder mystery programmes ruled the screens, making murder and violence easily palatable for the masses. Within the structure of 'Twin Peaks', Lynch chooses to blend the realistic form and style of these cop dramas and mystery programmes with fantastic elements, placing the show in a category similar to that of 'magic realism'. This blending of realism and fantasy, as well as the blurring of typical tropes of popular television at the time, immediately sets 'Twin Peaks' in a liminal space within the television medium. This liminality is only emphasised by the production timeline of the programme (the 25 year wait), as the television programme exists in a world of fiction and reality simultaneously. As it crosses the boundaries of genre, the show continues to push these liminal boundaries within its setting, plot and characters as well. The town of Twin Peaks exists at a liminal boundary, in which the fantastical world of "The Black Lodge" exists just beyond the veil. Once a person is exposed to the liminal boundary at work, they themselves inhabit a liminal space between Twin Peaks and "The Black Lodge" in which they become increasingly aware of discrepancies in the real world, while simultaneously becoming more knowledgeable of aspects of the fantastic. In this paper, I will explore the liminal aspects of 'Twin Peaks', including Lynch's vision for the show, the way he engages with genre, the depiction of liminal boundaries and spaces within the narrative of the show, and how those boundaries and spaces influences characters within the show. I hope to move towards defining how Twin Peaks, and other works of fantasy like it, can be explored with regards to the liminal.
Bio:
Eilidh Harrower completed her MLitt English Literature at the University of Glasgow in 2021, in which she achieved Distinction. Her dissertation explored the connection between theatre studies and literary studies – originally training as an actor has shaped the interests Eilidh has. Her research interests include, but are not limited to, transmedial studies, horror, ecology, witchcraft and paganism, creative writing and experimental forms of literature. Eilidh had the honour of making her academic debut presenting at the Dissenting Beliefs conference held by the University of Glasgow, in December 2021, and is excited to continue her work in academia.
Elizabeth Boothby
Abstract:
"Mom, it's not you": The Owl House, validation seeking, and the queerly-othered mother figure in children's fantasy media
This paper seeks to analyze and advocate for an often-overlooked form of queer representation in children's fantasy media: that of the queer, socially awkward, adult mentor/ mother figure. This paper's primary focus is the relationship between Luz, the queer child protagonist, and Eda, 'the Owl Lady,' in Dana Terrace's animated Disney show, The Owl House. By 'queer' this paper refers to both explicitly LGBTQIA+ adults, as well as those who embody more metaphorical forms of non-conformity, such as an inability to exist in their fantastical society in a 'normal' way, i.e., lacking magic. This paper builds on studies of fan culture, queer theory, and disability theory – specifically M. Remi Yergeau and Nick Walker's concept of "neuroqueerness" – in order to outline the social importance of the queerly-othered mother figure trope, as well as the ways in which The Owl House expands and improves upon it. The particular power of queerly-othered magical adults, like Eda, is that they are able to validate the child protagonist – and by extension many viewers – in a way their 'real' parents cannot, because of shared experiences of queer otherness and/or trauma. Eda represents, for both young queer viewers and chronically invalidated adult ones, an authentic, vulnerable, empowering queer adult who is capable of change and deserving of familial love. But in many of these narratives, the queer child feels they must choose between their 'real' parent and their magical 'found' one. The Owl House also engages directly with the pain of this perceived ultimatum, through Luz's human mother, Camila. The Owl House therefore provides crucial representation of the diverse validation-seeking needs of queer and neuroqueer children, while simultaneously providing older viewers with a healing and affirming narrative of queer family co-making.
Bio:
M. E. Boothby (she/they) is a temporary, human-shaped assemblage of matter and microorganisms, currently existing on the traditional territory of the Beothuk and Mi'kmaq peoples, on the island of Newfoundland, Canada. They have studied at Queen's University, the University of Edinburgh, and Memorial University, and their research explores the queer, neuroqueer, and ecocritical intersections of science fiction and fantasy, with an emphasis on how fiction can influence societal change. They have a soft spot for monsters, and like to write about apocalyptic fungi, intelligent cephalopods, and magical or mutant children.
Emma French
Abstract:

This Was Supposed to be the Evil Game!' – Playful and Critical Subversion in D&D and Dimension 20's Escape from the Bloodkeep
This paper will examine how Dungeons & Dragons (D&D) can be used to both playfully critique and subvert aspects of the fantasy genre and fantasy canon that it is often thought to enshrine. Utilizing Escape from the Bloodkeep – a livestreamed campaign produced by Dimension 20 – as a case study, I will look at implications of form: how D&D's status as a game encourages satirical approaches to genre; the impact of its collaborative nature as a storytelling medium upon narrative structure; and how the informal and unofficial status of the stories produced encourages transformative readings of traditional texts. Escape from the Bloodkeep presents itself as a pastiche of J.R.R. Tolkien's Lord of the Rings, in which players roleplay the forces of evil, allied in a parodic version of Mordor and soon to be defeated by Middle Earth's heroes. Initially, this cast of 'vile villains' begin by satirising Tolkien's text, as well as tropes that it has helped to establish within wider fantasy genre culture. This playful and comedic approach reflects D&D's nature as a game, as well as the Dimension 20 cast's roots in improvised comedy. However, as the story progresses, the queer and BIPOC cast also produce critical feminist and queer interpretations of Tolkien's work. In particular, the female and nonbinary players within this group – Erika Ishii, Rekha Shankar, and Amy Vorpahl – encourage an expansion of female points of view and feminine agency within the text, creating a counternarrative of nuanced relationships between powerful women, often relegated to the background of Tolkien's world. The inherently collaborative structure of narratives created through D&D also results in a challenge to Tolkien and other fantasy authors' representation of evil. Both these (re)interpretations are examples of tertiary authorship within TRPG narratives (Jessica Hammer, 2007). Players are given equal authority to the game system when crafting their story, and use this empowered narrative agency to question the traditions of genre fantasy.
Bio:
Emma French (she/her) is currently studying for a PhD in Fantasy Literature at the University of Glasgow. Her thesis examines how Dungeons & Dragons consolidates notions of fantasy, while also giving players agency to subvert genre convention. She is a member of the Glasgow International Fantasy Conversations committee, and an editor at Mapping the Impossible: Journal for Fantasy Research. Her current player characters include a sad vampire paladin, a traumatised sorcerer, and an actually pretty well-adjusted wizard.
Eva McLean
Abstract:
'How strange and brief all of this is': What Remains of Edith Finch, Empathy and Liminal Fantasy
What Remains of Edith Finch (2017) is not considered a horror game, but that does not stop it from being one of the most haunting games ever created. The BAFTA award winning video game features fantastical elements, but this paper argues that what makes the narrative compelling is the way that it manages to mirror the tragedies of reality. Each member of the Finch family meets their untimely demise as experienced by the player through the harrowing use of first-person gameplay. Whether this is down to a family curse, or a string of bad luck is never confirmed and this is only the beginning of the liminal space the text grapples with. There are no ghosts in the fantastical sense, but the Finch house is haunted with the memories of those who once called it home. Therefore, in this paper I will study this blend between the fantastical and the mundane with regard to liminal fantasy. To do this, this paper draws upon Farah Mendlesohn's taxonomy focusing on her category of 'liminal fantasy.' This paper also assesses how player agency can have considerable power in terms of creating investment and conjuring empathy. The inclusion of first-person gameplay places the player into this mundane setting to 'experience alternate situations and ways of being human' (Isbister 2017:8), highlighting the game as a unique medium for engaging in empathy. Ultimately, it is a game that features a great deal of death, but in doing so teaches us to embrace life. Edith is fearful of the house in the beginning, and she is right to be – while there are no ghosts within the walls, the game hints at something far more terrifying: our own mortality. Therefore, this paper further unpacks Jesper Juul's point that, 'perhaps: when playing games, we are all philosophers' (Juul 2013:43).
Bio:
Eva McLean completed her English Literature Postgraduate with Distinction at the University of Glasgow focusing on the overlap between ecology, creative writing and visual art. Eva also earned her English Literature Honours degree at the same university with her thesis on the study of Ekphrasis and Nineteenth-Century Literature. Eva volunteers as a moderator for the Centre for Fantasy and the Fantastic and an illustration of hers is published on the Centre blog. Her research interests are in the digital humanities, environmental humanities, ekphrasis and creative writing. Eva is undergoing a publishing internship and runs a bookstagram in her free time.
Gabriel Elvery
Abstract:
Fantastic Friends and Where to Find Them: Fantasy Friendships with Video Game Characters
This paper outlines my theory of the Digital Fantastic – a theoretical framework for understanding the fantastic in video games, created using applied player reception theory. The Digital Fantastic salvages Todorov's (1973) theory of hesitation for use in Game Studies to examine players' relationships with Fantasy characters. The theory posits that hesitation is created in video games via the evocation of real emotions felt for fictional characters, eliding the binary between experiences which are considered 'real' and those considered Fantasy: the fictional nature of characters is forgotten – even if fleetingly. Video games that focus on social interaction, including elements of game breaking and meta-commentary (such as Mystic Messenger and Doki Doki Literature Club) serve as generative sites of hesitation capable of facilitating parasocial interaction (Horton and Wohl, 1956) when played in an involved mode. Relationships with Fantasy characters that feel real, cause players to move beyond the easy simultaneity of Saler's (2011) theory of 'double consciousness' and treat characters with the gravity of off-screen interaction. To demonstrate my theory, I outline my analysis of the video game Undertale, using Fantasy and media theory, supported by player responses gathered from comments and reviews. I selected Undertale due to the outspoken nature of its fanbase, whose responses drew my attention to the quality of the parasocial relationships it facilitates. My conclusion will reflect on the practical applications of my theory by considering how hesitation can be used to help students develop a playstyle that encourages critical immersion. It is my intention that the theory of the Digital Fantastic can be used to help make players cognizant of the workings of video games to reap the social and educational benefits of affective engagement with digital fantasy worlds.
Bio:
Gabe is an LKAS PhD funded researcher at the University of Glasgow. They joined Glasgow to complete their Fantasy MLitt, and prior to that completed their Undergrad Degree in English and Comparative Literary Studies at The University of Warwick. Their current research project is focused on theorising applied player-reception theory for the Digital Fantastic in video games and considering the uses of this theory as a teaching tool. They are a co-organiser of the Game Studies at Glasgow reading group, Vice Editor of Press Start Journal and a member of the Games and Gaming Lab at The University of Glasgow.
Hannah Barton
Abstract:
The Weathering is Magical: The Mundane Moments in Climate Change
This paper will analyze the anime movie Weathering With You (2019) as an exploration of how magical realism, when used with climate narratives, can present the magical in a mundane manner. Weathering With You (WWY) demands that we reflect on what this paper argues as 'magic in the mundane' as director Madoko Shinkai reflects on the connection we share with the weather. WWY tells the story of a drowning Tokyo amid an everyday love story between two teenagers: Hodaka, a runaway in search of a new life; and Hina, a young girl that discovers a shrine that gives her the ability to make the sunshine through the rain, giving her the title of 'sunshine girl.' First, this paper will discuss WWY as a magical realism text as it presents the fantastic in a mundane manner as it juxtaposes the real and the unreal. This will be analyzed through both the narrative of the 'sunshine girl' myth, based on teru teru bozu, or the sunshine doll myth, while also analyzing WWY's physical setting itself in terms of the animation of the sky, clouds, and the rain. This animation is not only key for anime as a medium, but also for WWY's story, mythology, and climate narrative. Second, as the citizens of Tokyo accept Hina as the 'sunshine girl', Shinkai uses magical realism to help depict a flooding city through a children's love story. The movie's climate narrative as magic within the mundane exposes both the profound environmental responsibilities that Hina shoulders throughout the movie, while also expressing that climate narratives can be more than apocalyptic: they can be about people, their relationships, and the choices they make. These connections in WWY display the conjunction of anime's power as a medium to expand magic within the mundane and how we can dismantle boundaries between us and the natural world.
Bio:
Hannah is a PGT Fantasy student at the University of Glasgow. She has presented papers at ICFA 2020 conference, Cappadocia University's Pandemic Imaginaries conference, and the Society for Comparative Literature and the Arts (SCLA) conference. Hannah has also written works for U.S. Studies Online (USSO) over Tolkien's literary cartography and for the Centre for Fantasy and the Fantastic's Dungeons and Dragon's event. Her research concerns Climate Imaginaries, New-Weird, Horror, Spatiality studies, Ghost studies, and Game studies.
Iana Nikitenko
Abstract:
Nostalgia and the Challenges of the Modern World in "Chilling Adventures of Sabrina"
People used to reconstruct old stories, in particular those they first contacted with during their childhood or adolescence (Bortolotti and Hutcheon, 2007), thus adapting the plots to modern reality, both through the coverage of new topics of concern for society and through their expansion to different media platforms, including transmedial expansions of the plot. Thus, these stories are given a ""second life"" through modernization and various extensions. Based on the example of Netflix adaptation of Sabrina Spellman's story — ""The Chilling Adventures of Sabrina"" (2018-2020), where a modern agenda has been added to the original plot, affecting issues of feminism, gender, and racial discrimination, this paper will examine how nostalgia-based narrative can be merged with the inclusion of modern socio-political issues. The presence of nostalgia in this series has already been studied from the point of view of characters' sentimental longing for the past and the audience's desire to find all the references to popular culture (Sean Tiffee et al., 2020), alongside with a feminist agenda of the show (Brüning, 2021; Henesy, 2020), but the relationship of nostalgia with the adaptation of the plot and characters to modern realities has not yet been outlined. This work aims to understand the reconstruction of the image of Sabrina Spellman in the Netflix new version to demonstrate the influence of nostalgia and the outside world context on the formation and change of the identity of both the main characters and the audience, focusing on the potential nature of the relationship between the viewer and the main character and the reasons for this interaction (Rain and Mar, 2021), answering the question — how did the creators of the series manage to both maintain the nostalgic authenticity of the plot and modernize it, thus pleasing fans of the old story and recruiting new ones?
Bio:
Iana Nikitenko is an Erasmus Mundus Master granted student in Children's literature, Media and Culture in the School of Education department, University of Glasgow. She holds a BA in Media Communications from the National Research University ""Higher School of Economics"", Moscow, Russia, where she worked as a teaching assistant in Transmedia and Cinema Studies courses. Her main research interests centre around children's literature and media, transmedia studies, comics, and identity construction.
Ida Yoshinaga
Abstract:
Fantasy Modes that Fuel Sadcoms: the Generic (Genre) Labor of Millennial Community Expression Innovates Televisual Pre-production Cultures
When literary scholars Rosemary Jackson and Tzvetan Todorov came up with their classical conceptualizations of fantasy, they could not have imagined the deft, hyper-discursive uses of this flexible genre today. For fantasy is not only, as Jackson might have imagined it, a "literature of subversion" against unjust societal structures, but (perhaps more conservatively speaking), one that fuels personal coping and adaptation—so as to lay down the work of critical self-exploration and self-expression to occur parallel with, if not prior to, political challenges to oppressive social institutions. Neither is it, as Todorov had envisioned, merely a hesitational midpoint between a reader deciding whether a storyworld's event is either uncanny (explicable by the laws of science) or marvelous (supernatural and thus not cleaving to those physical rules); rather, going against this theorist's artificial limits of fantasy, the genre can function poetically as figuration and allegorization—operations that actually underplay the hesitating tension of whether what is occurring is, in fact, real—in favor of sneakier, far more abstract narrative conventions: enjoyable metaphorical "play" that Todorovian approaches the genre under-emphasize. This paper explores these coping and ludic aspects of fantasy as a hybridizable genre modality, by turning to the mid-2010s innovation in television, cable, and streaming narrative media of the "sadcom," the dark and cynical, often absurdist and nihilistic, socially observant, small-screen comedy (e.g., Bojack Horseman, Lodge 49, Crazy Ex-Girlfriend, Mary + Jane, Happyland, Atlanta). Sadcoms build upon fantastical modalities which arouse a sense of whimsy, speculation, wonder, liminality, and terror among viewers, to allow them to survive a savagely oppressive neoliberalist era and to delight in imaginative yoga for deeper thought, so as to be reassured of their humanity.
Bio:
Ida Yoshinaga, Assistant Professor of Science Fiction Film at the Georgia Institute of Technology, serves as Vice-President of the Science Fiction Research Association. She has co-edited Uneven Futures: Strategies for Community Survival from Speculative Fiction (with Sean Guynes and Gerry Canavan, MIT Press, 2022) and has published in Science Fiction Film & Television, The New Ray Bradbury Review, The Routledge Companion to Media and Fairy Tale Cultures, Postmodern Interpretations of Fairy Tales, and Marvels & Tales. She helps produce Indigenous cinema including the award-winning "Sina Ma Tinirau" (2021, dir. Vilsoni Hereniko), and specializes in pre-production, story development, and screenwriting.
Jack Fennell
Abstract:
Thermonuclear Druid Power: 'Post-Truth' Fantasy and the Re-evaluation of the Celt
At the end of September 2021, a fund-raising campaign was launched for an American web series named ""Celtics,"" which purported to tell the story of "the Celtics" and their fight against the "globalist" Roman Empire. Following an initial spat with Irish and Scottish pagans on social media, the series was brought to the attention of the wider population when the director pre-emptively blocked anyone who might criticise his pet project – which turned out to be the majority of Twitter users in Ireland, Scotland and Wales, many of whom had never interacted with the company's account at all. Now alerted to the production's existence, Twitter users of the 'Celtic Nations' gleefully descended on Celtics' promotional materials, which revealed an idiosyncratic fantasy world combining racist rhetoric with a jumbled pantheon of Celtic gods, poorly understood mythology, bad linguistics, and invented history – including elves, set designs resembling Star Wars' Ewok village, and a Gallo-Roman god depicted as an Irish sun deity with "thermonuclear druid power." The director responded to the few critics who had not been blocked by insisting on the literal truth of everything the series was intended to depict. In this paper, I want to use this particular omnishambles as a starting-point to examine a recent popular re-evaluation of the use of 'Celtic' imagery in fantasy fiction, which includes social media backlashes against the Anglicisation of Gaelic names in American film production, the haphazard blending of generic 'Celtic' signifiers with those of other cultures (often Native American) in RPG rulebooks and supplements, and the use of Irish, Gaidhlig, Scots or Welsh as 'discount Elvish' in fantasy literature. I wish to discuss the extent to which such backlashes are required, and to what extent are they counterproductive.
Bio:
Jack Fennell teaches at the University of Limerick. He is the author of "Irish Science Fiction" (2014) and "Rough Beasts: Monstrosity in Irish Literature, 1800-2010" (2019), both from Liverpool University Press, and the editor of "Sci-Fi: A Reader" (Peter Lang, 2019); his other academic writing includes essays on utopian fiction, comic books, gender identity in Star Trek, and vampires. He compiled the anthologies "A Brilliant Void" (2018) and "It Rose Up" (2021) for Tramp Press, containing lesser-known Irish science fiction and fantasy stories, respectively, and his own fiction has been published in a number of speculative fiction anthologies.
James G. Lowder
Abstract:
There's so much more to discover before the world ends
Walking Through Ruins and Encountering Entropy in Horizon Zero Dawn., "In recent years geographers have reflected on their experiences of walking through ruinous landscapes in order to creatively engage with themes of ruination and entropy (Brettell, 2016; Edensor, 2016). This paper reflects upon these ideas in relation to contemporary video games, exploring what it means to 'walk through' the ruins of a virtual landscape. This paper will focus on Guerrilla Games' Horizon Zero Dawn (2017) and its sequel Horizon Forbidden West (2022). Horizon Zero Dawn is an open-world role-playing game set in a post-apocalyptic United States that is strewn with debris left behind by the 'Old Ones'. The story follows Aloy on her quests through a world overrun by an array of animal-like machines and inhabited by diverse tribal groups. Horizon Zero Dawn has been described as a 'techno-fantasy' (Maher, 2021) that "feels like a combination of a classic fantasy adventure novel – with Aloy leaving a peaceful valley much as Bilbo Baggins left the Shire – and a 1980s pulp post-apocalyptic film, albeit with higher production value" (Hudgins, 2016: para. 3). Of particular interest to this paper is the role of ruination within these games, especially the encounters players have with the ruins and the place of these decaying structures in the broader narrative. Additionally, the presence of Ruinenlust in these games is considered, including how ruins contribute to the aesthetic appeal and fictitious setting. Overall, this paper broadly highlights the utility of fantasy media in interdisciplinary work, specifically arguing that Horizon Zero Dawn offers players an opportunity to engage with unique entropic landscapes and to reflect on Earth's ecological well-being.
Bio:
James is an interdisciplinary PhD student in the School of Geographical and Earth Science at the University of Glasgow. His current research considers the material and cultural relations humans have with outer space in the Anthropocene, including reflecting upon society's expansion into outer space and how humankind's relationship with the Earth could change in the near and far future. His work involves considering fictional narratives, in order to unpack cultural perceptions of life in an entropic universe.
Julia Jin Wang
Abstract:
Disrupting Constructions of "Abledness": A Neo-Daoist Reading of Fantasy Cultivation in Eternal Love
This paper examines representations of fantasy cultivation in the 2017 Mandarin-language television series 三生三世十里桃花 (Eternal Love), adapted from the 2011 webnovel of the same name. I define "fantasy cultivation" as sustained self-practice that changes one's ontology to having more magical capability. If considered solely from a Western philosophical tradition of self and nature, characters wanting ontological change might instinctively trigger discomfort. However, this discomfort indicates Eurocentric acceptances of subjectivities and embodiments. Such a reading of Eternal Love would be flat. Instead, my approach lies in the mutual disturbances and resonances between 郭象 (Guo Xiang)'s Neo-Daoist Commentary on the Zhuangzi (~300 C.E.) and contemporary (dis)ability theories. Neo-Daoist notions of 无 (wu, "nothingness," "nonbeing") and 自然 (ziran, "nature") could explore the complexities of Eternal Love's visual and auditory representations and its dialogue, since contemporary Mandarin still has many roots in Daoism and Neo-Daoism. Put into contact with (dis)ability theories, Guo's philosophy emphasizes the counterbalance in the notion of disability: that ability is also diverse. In Eternal Love, Bai Qian, a princess of the fox-deity clan, enters a cultivation school to change her ontology. She starts as a deity, ascends to high deity and then to high god. After each ontological change, her fashu (magic) augments in capability and capacity. To consider ability diversity via the metaphoric potentials of Eternal Love's fantasticality, I dissect ability's material aspect into "capability" (diversity such as physical, affective, and neuro) and "abledness" (one's position against the schematic prototype of an abled individual, which relates to but differs from social powers of "ableness"). I will examine Bai Qian's capabilities and abledness at each ascendance to argue that her cultivation representation disrupts the tie between capability and value, thereby disrupting the construction of abledness and destabilizing the concept of being disabled.
Bio:
Julia Jin Wang is a Ph.D. Candidate at Cambridge University's Centre for Research in Children's Literature, writing on the impact of fantasy multiverse narrative world-building on reader affects of alienation and familiarization. She spends a lot of time thinking about the interplay between language, world-building, emotion, and experiential meaning, and how such processes generate the stance from which we take action with or against each other. In addition to fantasy studies, she is interested in spatiality, interculturality, translation studies, image-text, and monsters.
Kate Fry and Rebecca Gault
Abstract:
Desired Realities: Reality Shifting and Portal Quest Fantasy
Reality Shifting is a trend that became popular in fan spaces on the social media app TikTok during the fall of 2020. Allegedly, Reality Shifting uses meditative techniques to allow an individual to move their consciousness from their current reality into a desired reality that can be scripted to the individual's desires. On TikTok, Reality Shifting is predominantly practiced within certain fantasy fan cultures–– Harry Potter and the Marvel Cinematic Universe to name some of the most popular. Fans adopt the settings of these fantasy worlds for the desired realities and interact with the characters there. While the validity of the claims that Reality Shifting allows individuals to travel to literal alternate realities is questionable, the practice's existence as a social phenomenon may prove enlightening for the study of fantasy and fan culture. The practice appears to mirror Farah Mendlesohn's conceptualization of Portal-Quest fantasy–– in which a protagonist " leaves her familiar surroundings and passes through a portal into an unknown place" (1). The comparison between the two offers a fruitful approach in which to explore the ways in which Portal-Quest fantasy is being recontextualized in digital spheres as a physical practice and one that has its own dedicated community. This paper aims to examine the exact interplay between the Portal-Quest genre and the fan culture practice of Reality Shifting, and any formal influences the former may have on the latter.
Bio:
Kate Fry is an MLitt student studying Fantasy Literature at the University of Glasgow. She completed a BA in English Literature at the University of Victoria, where she also served as Editor-in-Chief of the Warren Undergraduate Review. Her writing has previously appeared in Prism International and The Albatross.
Rebecca Gault is an MLitt student on the Fantasy Literature program at the University of Glasgow and, prior to this, received a MA in English Literature at the University of Glasgow Her research is predominantly concerned with the tradition of comic books, queer studies, fan culture, horror and the Gothic.
Kat Humphries
Abstract:
"What's this cheery singing all about?": Fantasy television and the musical episode
According to the character Dean Winchester, there is no singing in Supernatural (2005-2020). Yet the very episode in which Dean makes this claim, "Fan Fiction", features several musical numbers, with tongue-in-cheek lyrics and titles such as "The Road So Far" and "A Single Man Tear" – metatextual in-jokes for the show's devoted fanbase. "Fan Fiction" could be considered a musical episode, defined in The Cambridge Companion to the Musical as "the stand-alone musical episode of a typically non-musical series" (Lodge, 2017). An earlier example is the critically acclaimed "Once More, With Feeling" from Buffy the Vampire Slayer (1997-2003), and the musical episode continues to crop up in modern fantasy television shows such as Once Upon a Time (2011-2018) and Lucifer (2016-2021). The musical episode slots particularly well into the fantasy genre, where the narrative can provide a 'reasonable' explanation for characters bursting into song – be it a spell, a demon, or even a visit from God. The format is identified by tvtropes.org as a way of doing "Something Completely Different", departing from a show's usual formula in order to liven things up. This is not, however, the extent of the musical episode's power – writing in Music, Sound, and Silence in Buffy the Vampire Slayer (2010), Diana Sanders and Rhonda V. Wilcox note that the musical episode "employs the musical's key formal structure of song and dance to convey character and narrative information more succinctly and profoundly than is possible through the series' usual narrative structure". This paper will explore the ways in which different fantasy television shows have employed the musical episode, examining the impact the format has on character and narrative and why these episodes continue to appear in many contemporary series – often highly-anticipated and enthusiastically received by audiences.
Bio:
Kat Humphries studied the MLitt in Fantasy Literature at the University of Glasgow, UK. Her dissertation explores the figure of the monster hunter hero in American Fantasy television, focusing specifically on Buffy the Vampire Slayer (1997-2003) and its impact on subsequent shows Supernatural (2005-current) and Grimm (2011-2017). Kat is currently pursuing her research as an independent scholar alongside working full time as a Project Manager. Her wider research interests include the rehabilitation of fictional villains, young adult media, and fat studies.
Katarina O'Dette
Abstract:
It's Not Fantasy, It's HBO: Filtering Genre through Channel Brands
Over the past four decades, genres have become increasingly useful to the US television industry for their marketing potential. Scholars like Gary R. Edgerton and Kyle Nicholas have observed that, in an increasingly cluttered television environment, genres are shifted and redefined to suit the branding needs of channels. This process can render a televisual genre vulnerable to contestation as different channels repurpose a genre in diverging ways to suit their unique brands. This paper explores the differing ways in which fantasy was positioned by two channels, HBO and Syfy, through the marketing of their respective tentpole fantasy series of the 2010s: Game of Thrones (2011-2019) and The Magicians (2015-2020). In promotional discourses, HBO executives portrayed fantasy (when not produced by HBO) as poorly crafted and childish. In marketing materials, they sought to distance GoT from the genre by emphasizing the non-fantasy genres in the series and referring to fantasy largely through euphemism. When they did acknowledge GoT as fantasy, they positioned the channel itself as the author of a new, subversive, "adult" version of the genre. By contrast, Syfy's marketing attempted to capitalize on the popularity of fantasy and science fiction by emphasizing the link between The Magicians and existing fantasy traditions, thereby marketing the channel's genre expertise. While HBO's channel brand relied on promoting a subversive relationship with fantasy, Syfy's brand relied on promoting a relationship rooted in the genre's traditions. By filtering the genre through the needs of their brands, their marketing campaigns promoted two different ideas of what fantasy television was. As channels in a so-called "cord-cutting era," HBO and Syfy are under pressure to prove their unique contributions to their parent companies. Genre becomes a tool to justify their continued independent existences as channels: a tool both used and warped by the brands that wield them.
Bio:
Katarina O'Dette (she/her) is a Film and Television Studies PhD candidate at the University of Nottingham whose research centres on fantasy television, genre studies, and media industry studies. She holds a BFA in screenwriting from the University of Southern California and an MLitt in Fantasy from the University of Glasgow. She serves as Programming Co-Chair on the GIFCon 2022 organizing committee and as a general editor on Mapping the Impossible: Journal for Fantasy Research. Her research can be found in Extrapolation, Fantastika Journal, Slayage, and A Shadow Within: Evil in Fantasy and Science Fiction.
Kim Wilkins

Abstract:
Born Convergent: Young Adult Fantasy across Platforms and Media
Young adult fantasy fiction (YAF) is big international business: consistently growing in value and volume, and outselling adult fantasy fourfold. These books also serve as source texts for adaptations across platforms, including film, television, videogames, merchandise, e-commerce, fan fiction, and colouring books. The varied cultural experiences that gather around these books fulfill Henry Jenkins' 2008 definition of convergence as "the flow of content across multiple media platforms, the cooperation between multiple media industries, and the migratory behaviour of media audiences…in search of the kinds of entertainment experiences they want". There is a clear trend towards convergence in contemporary YA publishing, driven by readers and, importantly for this paper, leveraged by industry. This paper aims to show the ways that genre is both constituted by and constitutive of industrial processes and practices. I argue that when the genres of young adult fiction and fantasy fiction are combined in YAF, their industry and audience orientations amplify each other, disposing the texts towards seriality, franchising, licensing, and widespread digital sociality (both official and unofficial). These emerging logics of 21st-century publishing respond to the industry's need for reproducible financial success, and the audience's need for reproducible reading experiences. An emerging orientation towards convergence and reproducibility locates YAF at the centre of change in contemporary book culture.
Bio:
Professor Kim Wilkins is a recognised expert on creative practice, popular literature, and the publishing industry. She is the author of more than 30 full-length works of fiction, and her work is translated into more than 20 languages globally. Her scholarly research centres on creative communities, such as writing groups and fan cultures. She led the ARC-funded project "Genre Worlds: Popular Fiction in the 21st Century" from 2016-2019, and is most recently the author, with Dr Lisa Bennett, of a monograph on bestsellers and the tension between art and industry (Cambridge University Press, 2021).
Louise Child
Abstract:
Tricksters and Skinwalkers: Ambivalent Animism in Indigenous Religions and Native American and Canadian Films.
In this paper I explore Native American film and television shows that draw from traditional indigenous stories to create animist characters such as tricksters that may inspire fear, but also place Native persons at the centre of the dramas. Skinwalkers, (2002) uses a detective story set on a Navajo reservation to explore contemporary issues such as the poisoning of land and water by powerful interests and conflicts between indigenous and western medicine. Dreamkeeper (2003) explores complex inter-generational conflicts and how they may be healed through storytelling traditions, including trickster stories, while Smoke Signals (1998) also explores how stories heal relationships between fathers and sons and acts itself like a trickster, using humour to challenge stereotypes. Most recently, the Canadian television production Trickster (2020) explores tricksters, shapeshifters, and witches in ways suggestive of animist emphases on balance between persons in human and other forms, showing how the colonial experience, including residential schools, has damaged that balance. Moreover, it examines maternal as well as paternal lineage and conflict. Set in British Columbia and exploring the coming of age of a Haisla teenager called Jared, the trickster is depicted as both an essential part of the cycle and balance between sacred beings, and as a source of potential evil when he refuses to relinquish his powers. Between them, these productions place tricksters squarely in the context of modern indigenous lives. Filled with humour, danger, and life lessons about the precarious balance between transformative power and the wisdom of impulse control, these stories offer many themes that have traditionally been of interest to scholarship on the trickster, while at the same time offering personal, individual, stories of survival and resilience that challenge dominant hierarchies.
Bio:
Dr. Louise Child is a Lecturer in Religion, Film and Television at Cardiff University. She has research and teaching interests in the anthropology of religion, indigenous film and television, and gothic studies. She has published papers on indigenous film and popular film and television and has co-edited (with Aaron Rosen) the book Religion and Sight, published by Equinox in 2020. Her forthcoming book Dreams, Vampires, and Ghosts: Anthropological Perspectives on the Sacred and Society in Film and Television is due to be published by Bloomsbury in 2022.
Madalena Daleziou
Abstract:
Representations of Disability in Fullmetal Alchemist: Brotherhood and Dororo
Animation offers unique possibilities for engagement with body politics; Suzan Napier argues that "animation […] is particularly suited to the fantastic mode due to its tremendous flexibility," with bodily metamorphoses and artificial bodies becoming more easily representable (124). Japanese anime, especially, involve a wide range of genres and conventions, which allow controversial treatments of the body to be depicted more plausibly than in live-action media (Denison 51). This paper considers disability representations in Fullmetal Alchemist: Brotherhood (2009) and Dororo (2019). Both anime feature disabled main characters and explore their identity construction in relation to the body. The series' fantastic elements and their anime-specific tropes allow the imagination of extremes such as the near-total absence of a body and societal perceptions about such bodies. Both anime feature extremely advanced prosthetics, which render the characters fully mobile and capable of defeating able-bodied opponents, allowing supercrip connotations. Sami Schalk defines the supercrip as "a stereotypical representation of disability" in visual media (72). With this term in mind, FMAB and Dororo might be dismissed as negative disability representations. Yet, as Schalk proposes, rather than completely dismissing such works, it might be useful to study them in their "representational context" identifying flaws but also positive aspects, where applicable (84, 76). Studying the main characters' identity construction in relation to their bodies, cases of overcompensation, and their problematic preoccupation with 'fixing' their bodies, but also positive depictions, reveals that these representations offer insights on genre and medium conventions, broadening our understanding of stereotypes, suggesting ways to achieve more empowering future representations.
Bio:
Madalena Daleziou earned her undergraduate degree in English Language and Literature from the National and Kapodistrian University of Athens. She then studied the Fantasy MLitt at the University of Glasgow. Her research interests include animals in fantasy, dystopian literature, body politics in manga and anime, the works of Robin Hobb, and Children's and YA literature. Madalena is a fantasy writer whose work is currently available or forthcoming in the other side of hope, The Deadlands, and other venues.
Maria Arvaniti
Abstract:
Finding the Cyclolotogorgocircilarizo: Folklore and identity in the fantasy plays of Xenia Kalogeropoulou
In the short century since the burning of Smyrna in 1922 and the subsequent translocation of Asia Minor's Greek population to the 'mainland', the idea of 'Greekness' has undergone a number of transformations. Indeed, since the country's recognition of autonomy in the 19th century, its relationship with Turkey and the four centuries of Ottoman rule has remained a controversial topic in schools, universities, and amongst the general population. Born less than fifteen years after that uprooting to a family of refugees, Xenia Kalogeropoulou (1936-now) is an actress, director, and playwright who has been active in the Greek stage since 1965, and working exclusively on Children's Theatre since 1972. In 1984 she opened her own theatre "Porta" (Door) with an adjacent stage dedicated to Children's Theatre called "Mikri Porta" (Little Door). Mikri Porta has been a fertile creative space for Kalogeropoulou, providing her with the space and resources to write and stage over thirty plays for children. Between a number of translations, adaptations and co-written works, her own original plays Οδυσσεβάχ (Ulyssinbad 1982), Eλίζα (Eliza 1992), and To Σκλαβί (The Slave Boy 2000) shine through with their uniquely Greek identity. In her theatrical work, Kalogeropoulou approaches Greek identity as an amalgamation of varied and often contrasting influences similar to her invented Cyclolotogorgocircilarizo, the treasure at the end of Ulyssinbad's journey that turns out to be nothing less than the collection of adventures that led him back to his home country after a perilous journey. This paper will use the three aforementioned plays to explore how children's fantasy theatre offers creators a space to explore the chimeric nature of national identity, modern mythology and meaning making.
Bio:
Marita Arvaniti is a Greek PhD student in the University of Glasgow, investigating the lasting effect theatre has had in the birth and evolution of contemporary fantasy literature. She holds a BA in Theatre Studies from the National Kapodistrian University of Athens and an MLitt in Fantasy Literature from the University of Glasgow. She is a member of the University of Glasgow's Centre for Fantasy and the Fantastic, and the Administrative Assistant for the Once and Future Fantasies Conference.
Marta Miquel-Baldellou
Abstract:
Traces of Gaston Leroux's 'Le Fantôme de l'Opéra' in Alejandro Amenábar's 'Abre los Ojos'
Although it was published in the year 1910, Gaston Leroux's novel 'Le Fantôme de l'Opéra' evokes and recreates characters, themes and motifs that typify the nineteenth-century Gothic romance. Featuring a Romantic hero, Erik, who is endowed with extraordinary artistic gifts, but is also considered an outcast, Leroux's novel portrays a world that oscillates between the marvellous and the uncanny, which is where Tzvetan Todorov claims that the fantastic lies. Leroux's novel has captivated contemporary audiences through numerous film adaptations, plays, and musicals. Shortly after its publication, 'Le Fantôme de l'Opéra' gave way to a prolific series of transmedia adaptations, which ranged from acknowledged adaptations faithfully based on Leroux's original novel to versions merely inspired by the original plot which transformed it most thoroughly. Alejandro Amenábar's film 'Abre los ojos' (1997) is a thriller, set in contemporary Madrid, which focuses on the character of César, a young man who wears a prosthetic mask to conceal his disfigured facial traits. 'Abre los ojos' displays significant intertextual links with Leroux's classic novel which range from explicit references to the original text to manifest parallelisms in relation to its characters, themes, and motifs. Leroux's portrayal of a gloomy atmosphere of dreams, surreal paintings, magic, performance and masks, which reflects the blurred distinction between reality and fantasy, is also evoked, contemporised and transformed in Amenábar's film through references to virtual reality, artificial perception, and cryonics. Bearing in mind these premises, this paper aims to analyse Amenábar's film 'Abre los Ojos' as a contemporary postmodern film adaptation of Gaston Leroux's novel 'Le Fantôme de l'Opéra', with the view to explain how features pertaining to the nineteenth-century Gothic romance, as illustrated in Leroux's novel, are revisited, updated and transformed in Amenábar's film.
Bio:
Dr. Marta Miquel-Baldellou is a Postdoctoral Fellow and a Work Team Member of the Research Group Dedal-Lit at Lleida University (Catalonia, Spain), and she is now taking part in a government-funded research project. Recently, she has been granted a postdoctoral scholarship to work on a research project in relation to narratology and myth criticism. Her areas of interest are comparative studies, Gothic fiction, nineteenth-century literature, Victorian literature, popular fiction, and cinema studies. The results of her research have been published in academic collections edited by Brill/Rodopi, Peter Lang, Cambridge Scholars Publishing, and Fairleigh Dickinson University Press.
Matthew J. Elder
Michael A. Torregrossa
Abstract:
Arthur, King of the Comics? The Functions of Arthur Pendragon in Comics and Comic Art,
In the Middle Ages, King Arthur was a popular figure, renowned across Europe as one of the Nine Worthies and the "Flower of Kings". Arthur's fame has diminished much over the succeeding centuries, but his story remains prominent in modern mass media through retellings, continuations, and recastings of his adventures in fiction, film, games, television programming, and comics and comic art. The comics medium has been especially overlooked in Arthurian Studies; however, it offers thousands of examples of intriguing approaches to Arthur appearing in works from the 1930s up to the present in comics produced across the globe. In this paper, I'd like to explore some of these depictions and sketch out some suggestions for future research. My plan is to highlight three aspects of Arthur's career in the comics: Arthur and Camelot (stories of Arthur as the hero of Camelot), Co-Starring Arthur (stories set either at Camelot or in post-medieval eras that position Arthur in a secondary role, rather like a cameo or guest star appearance on television), and Arthur as Once and Future King (stories set in post-medieval eras that move Arthur back into a heroic role again).
Bio:
Michael A. Torregrossa is a medievalist who researches adaptations of the medieval in popular culture. He is founder of The Alliance for the Promotion of Research on the Matter of Britain and The Association for the Advancement of Scholarship and Teaching of the Medieval in Popular Culture, and The Northeast Alliance for Scholarship on the Fantastic; he also serves as the Monsters and the Monstrous Area Chair for the Northeast Popular Culture/American Culture Association.
Misha Grifka Wander
Abstract:
Learning to Use Elfroot: Video Games and Worldbuilding, In an off-hand remark in "Game Design as Narrative Architecture," Henry Jenkins says "When game designers draw story elements from existing film or literary genres, they are most apt to tap those genres – fantasy, adventure, science fiction, horror, war – which are most invested in world-making and spatial storytelling." He does not go into further explanation of how he determines which genres are invested in world-building, but most readers will find his statement rings true nonetheless. However, I want to investigate the connection between worldbuilding, games, and fantasy further. Worldbuilding in fantasy has been well-described in the scholarly literature, but this literature has not been brought to bear on video games' particular methods of evoking fantasy worlds. In this paper, I will analyze the tools that video games use to build secondary worlds, how game mechanics can create player familiarity with the world, and even how games can create a sense of habitation within fantasy worlds. Some of these tools are similar to fantasy literature, but some of them differ quite a bit. For instance, many secondary world fantasies have unique plant species, some of which become important to the narrative, many of which are described as set-dressing or simply assumed to exist. Video games like Horizon Zero Dawn and Dragon Age: Inquisition teach players not only to recognize the names of their fictional plants, but their uses, potential combinations with other materials, and the places where they most often grow. Rather than relying on narrative importance, video games introduce their fantasy flora through practical importance—the need of the player-character to collect and use these plants in order to survive. This paper will theorize the ways in which game affordances create a unique experience of fantasy worlds—not better than literature, but different and complementary.
Bio:
Misha Grifka Wander is a PhD candidate in the Ohio State University English department. Their major fields are video game studies, comics studies, and speculative fiction studies, using a ecocritical and queer lens. Other publications include an essay on sexism in speculative fiction genre divides (The New Americanist, Fall 2019), ecology in Skyrim (Being Dragonborn, 2021), ecocritical fairy tale comics (Marvels and Tales, 2021) and a forthcoming chapter on pronoun use in contemporary science fiction (The Routledge Companion Gender in Science Fiction).
Nicholas Wanberg
Abstract:
Renegotiating Light: Adaptations of Gender, Whiteness and Physicality Between Harry Potter and its Fanfiction
Many scholars have noted the potential of fanfiction for renegotiating the ideological positions of canon works. Some have focused on fanfiction's socially progressive transformative potential. Others have noted cases where fanfiction transforms the works in much the opposite way, writing out minority characters or instilling socially regressive values. However, technical, legal, and ethical limitations have made it very difficult to determine what fanfiction generally tends to do. This study attempts to offer some preliminary insights into that question. The study builds on my prior work, which analyzed patterns of language use related to gender and Whiteness in the Harry Potter series. It extends this analysis to Harry Potter fanfiction, using quantitative and qualitative analysis to show how the texts have negotiated ideological representations of Whiteness/gender intersections. It focuses on imagery associated with reflection and diffusion of light and its association with or dissociation from gendered aspects of physicality (from tears and sweat to burn injuries). I facilitate this project using robotic process automation, interfacing with online archives directly via a software robot I designed specifically for this purpose. This approach overcomes the earlier limitations. It allows for the preservation of authorial control over the reproduction and distribution of their works, preserves copyright integrity and conforms to established terms of use for affected websites, while also ensuring that later scholars can duplicate results without extensive additional effort or a need for sharing sensitive data. This project aims to identify general trends in how content producers can translate oft-unmarked ideological messages across media forms and paves the way for larger-scale, more ambitious research projects in this area.

Bio:
Nicholas Wanberg is a Ph.D. candidate at Tampere University in Tampere, Finland. His present research focuses on racism, anti-racism and the intelligent non-humans of speculative fiction.
Özcan Kahraman
Abstract:
A Fantastic Slice-of-Life Experience: Exploring the Ordinary in Fantasy with Hayao Miyazaki
Traditional fantasy stories focus on grand adventures, heroism, the chosen ones, and the other worlds. Therefore, they discard telling the ordinary stories of everyday life and everyday people. However, not every story should be about "something," and the Slice-of-Life genre displays this by reflecting on stories about the ordinary. Even though it seems like Slice-Of-Life and Fantasy are incompatible due to their nature, when they mix, they present the extraordinary for the Fantasy texts. ""Secondary Worlds"" of Fantasy contain more than the adventures of chosen ones, great heroes, mighty wizards, or the dark lords. They also contain ordinary people, the tea breaks in between the adventures or the daily chores and Slice-of-Life fantasy aims to present that. Slice-of-Life is a popular genre in anime and manga, thus many examples of these ordinary fantastic stories are found there. However, it is possible to see the fantastic Slice-of-Life across multiple different media like movies, literature, and video games. Slice-of-Life makes use of its different mediums, especially movies, anime, and video games, to deliver its relaxing and ordinary experience. Some of the best examples of these are the movies of Hayao Miyazaki. Movies like My Neighbor Totoro (1988), Kiki's Delivery Service (1989), Howl's Moving Castle (2004), not only transfer us to a fantastic world but also present calm Slice-of-Life stories. Fantasy media avoids telling stories without action, adventure, or "important" characters, but stories of everyday people and ordinary are more common, interesting, and worth telling. Slice-of-Life Fantasy presents the neglected, domestic and ordinary stories and claims that they are just as important and valid.
Bio:
Özcan Kahraman is an MA student of English Language and Literature at Ankara Social Sciences University working on a thesis about the encounter of Bildungsroman with fantasy. Previously, he earned a BA in English Literature from Hacettepe University. His primary research interest concerns the presence of the ordinary in fantastic universes and the tabletop fantasy experience. As a part-time Dungeon Master, and a part-time student, he is deeply interested in exploring fantastic universes across multiple media such as video games, tabletop games, movies, animations, and literature. Currently, he is working as an English teacher while creating fantastic universes in secret.
Pamela Elaine Miller
Abstract:
Foul Murder: The Role of Unreliable Narrative in "The Elder Scrolls III: Morrowind"
The 2002 Fantasy role-playing game ""The Elder Scrolls III: Morrowind"" remains a well-known example of its genre twenty years after its release. While at the time lauded for its ambitious scope and visuals, today it is remembered for its writing. This paper suggests that one of the crucial reasons for this success is the writers' use of unreliable narrative as a central feature of the game's story. An Unreliable Narrator, as coined in 1961 by Wayne C. Booth, is the term used to describe the presence of a narrator in a text who, for a variety of reasons, obfuscates the truth from the audience. It is a device long present both in film and literature, from ""The Tell-Tale Heart"" to ""Fight Club"", and even in the writing of other video games. In the majority of these cases, the obfuscation is limited to a single character over a relatively short time span. The writers of ""Morrowind"", however, used the medium of exploratory, open- world gameplay to take the idea further by allowing the player to directly interact with an unreliable narrative spanning dozens of hours. The central story surrounds the aftermath of an event that occurred several thousand years beforehand. Over the course of the game, the player is required to uncover the truth through interacting with other characters and reading in-game texts. This paper will examine the ways through which ""Morrowind"" plays with unreliability through contradictory evidence, conflicting character agendas, and material hidden in such a way that a player may not find it on any given playthrough. It is in the conflict of information, together with the agency granted to the player by virtue of the game's structure, that grants ""Morrowind"" its lasting power as a work of narrative fiction.
Bio:
Pamela Elaine Miller has a BA in Anthropology from Northern Arizona University and a MA in Experimental Archaeology from the University of Exeter. She is currently working on her Masters in Fantasy Literature at the University of Glasgow. Her research interests include Eighteenth and Nineteenth-century literature, British folklore with emphasis on fairies, material culture, narrative in video games, and the cultural influence of fantastical creatures.
Paromita Patranobish
Abstract:
Solastalgia and Planetary Affect in Katla (2021)
My paper aims to use Glenn Albrecht's idea of "solastalgia" to approach Sigurjón Kjartansson's 2021 Icelandic eco-speculative production, Katla. I draw on Albrecht's definition of "solastalgia" as a form of ecologically mediated grief underlining the intimate link between environment and emotion, to analyse the narrative's speculative figure of a 'sentient' volcano. I begin by arguing that "solastalgia" can be a useful frame to understand new lived realities that are produced by neoliberal industrial global capitalism and its extractive apparatuses upon the planetary landscape and the reproduction of these processes within the human psyche as a deep structure of emotional disturbances. In Katla the human dimension of the anthropocene is envisaged in terms of a planetary anthropomorphism. The earth not only passively registers the physical effects of human activity; it's very matter is an agential tissue recording, transcribing and reproducing the sediments of purportedly human emotion. A volcano becomes an epiphenomenal archive of nonhuman affects including and primarily those inarticulate expressions that operate below the conceptual threshold of anthropocentric consciousness. Melancholy, estrangement, grief, and bereavement then are no longer states of mind limited to humans. These constitute a shared material continuum in which the earth itself participates– a solastalgic spectrum that extends to nonhuman forms. By examining the narrative's construction of its eponymous volcano that takes on the figurative function of an extended metonym, I will read the visual and cinematic representation of disaster in Katla, focusing in particular on the series's reinterpretation of the tropes of climate grief and eco-trauma as a participatory field that decenters the speciestic centrality of the liberal human subject. This multispecies reconceptualization of trauma offers new possibilities for thinking about the politics and ethics of cohabiting a shared planet in catastrophic times. References: Glenn Albrecht, "Solastalgia: a new concept in human health and identity." PAN (Philosophy, Activism, Nature). Volume 3, 2005, pp. 41-55
Bio:
Paromita Patranobish is an independent researcher currently based in Kolkata, India. Her work focuses on the intellectual history of the body in modernity, engaging primarily with Continental and Post-Continental philosophy and studying 20th and 21st Century aesthetic articulations of nonhuman embodiment in relation to globalisation and multispecies planetary ecologies. She has a PhD on Virginia Woolf's literary phenomenology from Delhi University and has previously designed and taught courses on gender studies and postmodernism at Shiv Nadar University and Ambedkar University Delhi. Her writing has been published in Fields of Play: Sport, Literature and Culture (Routledge, 2015) and Studies in Travel Writing (Taylor and Francis, 2019).
Sara Gonzalez Bernardez
Abstract:
Alternate Worlds from Alternate Worlds: Alternate Universe (AU) Fanfiction as Transformative Agent
Fanfiction (or fanfic, as it is popularly known) is not a recent phenomenon: for example, Charlotte Brontë's Jane Eyre (1847) can be easily read as fanfiction of Jane Austen's Emma (1815) expanding the story of Jane Fairfax, who was only a minor character in Austen's work. However, the understanding of fanfiction as a literary form of its own worthy of consideration, is indeed relatively recent: its popularity and spread have been encouraged thanks to technological developments, particularly the fanfiction database Archive of Our Own (AO3), enabling anyone to share their work and making it accessible worldwide. One of the major appeals of fanfiction is how it stretches the fictional work beyond its original borders: the world and characters which the author created are no longer set in stone — already permeable to the reader's ideas and conceptions of them, they now become changeable entities, sometimes to the point of not being recognizable as the originals anymore. This essay focuses on a particular genre known as Alternate Universe (AU), which makes significant changes to the source work, such as key features of the worldbuilding, the number or identity of the characters, or even creating a different setting altogether. The objective of this essay, then, is to examine how these changes to the source work are not simple explorations of alternate possibilities, but also function to change the source work's values and themes. As shown through chosen examples, taken from aforementioned AO3, the fictional representations found in the source universe are expanded to include those that had not been able to recognize themselves in the original work, by altering the characters' roles, shifting their dynamics, and subjecting their established sexualities, genders, or ethnicities to changes.
Bio:
Sara González is a graduate in English Language and Literature by the University of Santiago de Compostela, where she also obtained a Master's in Advanced English Studies and is currently undertaking a PhD with support from the Spanish Ministry of Education. Her thesis project deals with the possibilities which the fantasy genre affords as a site of resistance and expression for marginalised identities, and how this impacts their representation within the fiction. Her research has therefore revolved around the concepts of identity, representation and empathy, working mostly with contemporary young adult literature and new media, such as videogames and fanfiction.
Sarah Bresnahan
Abstract:
Entering the Game: Videogames as Fantastic Portals
As a medium, videogames act to bridge the gap between fantastic digital lands and our own, enabling players to interact with secondary worlds and create a collaborative storytelling experience in the process. By applying Farah Mendlesohn's definitions of the portal-quest and immersion fantasies, this talk will explore to what extent videogames operate as fantastic portals for the players that engage with them. Fundamental aspects of the videogame experience, such as the sustained externality of the player and the inclusion of non-diegetic visuals and sounds, produce contradictions that defy Mendlesohn's categorisations. To overcome these issues regarding the theory's inter-media application, this talk will incorporate the psychological effects that the act of play has upon the player's identity, creating a complex convergence of their own identity and that of the player character they control (Waggoner, 2009). Establishing the impacts that such a blurring of identities has on the player's role, transforming them from reader to active participant projected into the game world, I will discuss how a re-examination of Mendlesohn's structural definitions yields different results. I will then analyse the opening sequences of Forza Horizon 5 (2021), Stardew Valley (2016), and Pokémon Mystery Dungeon: Blue Rescue Team (2005), highlighting the subtle and overt instances of videogames 'portal-ing' the player into the game world. The presence of these design choices and the surrounding industry rhetoric reveals an awareness of this fantastic function of videogames. I will conclude the talk with a discussion on the accuracy of describing these design choices as invoking a portal aesthetic and to what extent videogames can resultantly be described as portals.
Bio:
Sarah Bresnahan is a current postgraduate student on the MLitt English Literature (Fantasy) course at the University of Glasgow. She graduated from the University of Liverpool with a 1st Class Hons in English in 2021, having incorporated as many videogames and other 'nerdy' texts into her assessments as possible. Her research interests include the application of eco-critical and narratological theory onto videogames, the shifting identities of the player during play, and the transformation of stories across media.
Shree Thaarshini S
Abstract:
Winx Never Go Out of Style
'Magic Winx!' is an incantation that triggers a transformation sequence, a transfiguration specifically of the character's attire: a skirt and a blouse slowly change into an elaborate outfit, coupled with wings. While this trope, the shifting of appearance to reveal an alter-ego, is common, its treatment in Winx Club invites us to think about the relation of fashion to characterisation and identity. The show and its fans are invested in every outfit the protagonists wear, so much so that the official Wiki site has an "Outfits" page for each character, while fan-art and online role-playing games abound with detailed wardrobes. What is it about these clothes that so fascinates fans? The animated nature of the show means that there is an emphasis on appearance, but it can only afford occasional alterations. Yet this serves not as a failing, but an advantage: it draws immediate attention to every instance of restyling, and the import of this shift to the character. The magic of Winx Club lies in the care with which it employs minute visual detail – like the hearts that remain a concrete part of the ever-affectionate Bloom's wardrobe – to develop a coherent style for each character which reflects their personality. For the show and fans alike, appearance is 'all' there is, and fashion choices have a significance. On the other hand, the live-action remake, Fate:The Winx Saga, has characters whose costumes change often and haphazardly, leading to fan outcry. This presentation puts the animated series, the live-action descendant, fan response, art, and games in conversation, to trace the liberatory possibilities of styling: How does clothing affect characterisation? What power does a new accessory give a character? How is this obsession with attire different from the regimentation of uniforms, like in W.I.T.C.H? What is its idea of an identity?
Bio:
Shree Thaarshini is currently a Teaching Fellow at the English Department in Ashoka University, India. Questions about love, affect, and characters interest her. Fantasy literature has long been an integral part of her life.
Silvia Storti
Abstract:
Advertising the fairy tale: the happily ever after con
Jack Zipes once said that if we were to note down 'the large number of advertisements, cartoons, films, videotapes, radio programs, toys, merchandise, and wearing apparel that make use of fairy tales', we would have to concede we were living 'in a fairy-tale universe'. It is undoubtable that imagery and language have the power to infiltrate our collective unconscious, and fairy tales are evidence of this process. Marketing and advertising companies have never ceased to exploit this power and have very consciously appropriated fairy tales and their plots for an ever-growing number of campaigns. The trend for simple images in the advertising and marketing industry goes some way to account for this exploitation: one effect of fairy tales' adoption by visual media is the loss of their textual history, their stories and characters distilled into a single image. I will examine fairy tales within this context as examples of the commodification of fantasy and the fantastic. Overall, fairy tales have grown in relevance as 'book, hypertext for the Internet, advertisement for commodities, script for film, radio, and television, comic, cartoon, and cultural artifact' in the West's already visually saturated culture. I look to amplify that analysis of the pervasive imagery of fairy tales that has already been recognised as an unconscious cultural meme, endlessly reproduced in fictional and non-fictional works. The connection between fairy tales and beauty standards, wherein the beauty industry regulates femininity for mass consumption, also demonstrates how narratives that belong to the cultural collective are prime candidates for manipulation and promotion. I question why the media returns time and time again to the fantastic, especially as regards to the portrayal of women and the internalisation of commodified gender roles and female sexuality.
Bio:
Silvia E. Storti is a doctoral researcher at Kingston University London. Her work looks at fairy-tale retellings, reworkings, and adaptations to explore villainy through the concept of the Other, in the form this takes as issues of race and national identity, gender roles and toxic masculinity, the monstrous feminine and beauty standards. Part of her research is published in "Interdisciplinary Essays on Cannibalism" (2021), edited by Dr Giulia Champion. She is a member of The Angela Carter Society and of The Folklore Society.
Siravich Khurat
Abstract:
Serial World-Building: Resetting the Digital World and Trailing Zemuria
When fantasy extended beyond its literary roots, the possibility of how its extensive narrative can be told across different entries in each series expanded along with it. In particular, how the world of a specific narrative shifts with each new entry in its series is of interest. To that end, this paper would examine two distinct approaches to world-building across a series: 1) Re-Adjustment and 2) Enrichment. The first approach involves each distinct entry within a series re-defining the concepts that defines the series to fit a new narrative, while the second approach revolves around each entry refining the established world and concepts to complete them within the overarching narrative. To take a closer look at these two approaches to world-building, two representative series will be scrutinised. The first is Digimon, a multimedia series with anime as its centre, which consistently re-adjusts the primary concepts of the series such as what Digital Monsters (Digimons) and the Digital World are, how they are related to humans, and how the Digimons are able to evolve. The second is Kiseki (Trails) series, a JRPG video game series, which enriches its continent of Zemuria with each arc that explores different regions. While their approaches to world-building across their series-long narratives differ, what they have in common is the change in characters that signifies a turning point in the narrative and the corresponding world-building. With respect to their respective medium and theoretical discourse regarding world-building, how the Digital World and Zemuria shift through each of their primary 11 anime/game entries (among others) will be observed while contemplating on how the differences between reconstructing the concepts and components of the 'same world' (Digital World) and exploring the same world (Zemuria) more expansively have effects on the storytelling, the world's conceptualisation, and the audience's perception.

Bio:
Siravich Khurat holds an MLitt in Fantasy from the University of Glasgow. His interest lies in studying specific themes within the Fantasy genre across a range of compatible stories. He has a particular focus on Japanese narratives across media and a keen interest in creative writing.
Steffen Hantke
Abstract:
Size Matters": Why Giant Creatures on Screen Keep Getting Bigger
From the eponymous ape in King Kong to the iconic lizard in Godzilla, fantastic giant creatures have always thrived on spectacular visibility. So essential is this visibility to the trope that, aside from a few predecessors in "Lost World" science fiction, there has never been a comparable literary tradition alongside the proliferation of giant creature on screen—from the behemoth in Cloverfield, to the dragons in Reign of Fire, to the recent iterations of, respectively, the King Kong and Godzilla mythologies. Driven by ever-improving technological means of detailed realistic rendering, the giant creature thrives on spectacular visibility. As a fantastic trope with considerable longevity, it must—literally—be seen to be believed. What these advances from primitive stop-motion to sophisticated CGI do not explain, however, is the fact that the giant creature's spectacular visibility has been accompanied by a steady increase in the creature's size: as the catchphrase for Godzilla (1999) would have it: "Size matters!" While much critical attention has been devoted to reading giant creatures for their metaphorical or allegorical qualities in regard to the historical context in which they appear (e.g. Godzilla as nuclear, or King Kong as racial metaphor), the question less explored is whether, and how, size itself is a quality with the power to signify. Size does matter, but what does it mean? Two approaches to this question are possible: considering specific films and their use of size itself as a signifier; and reading several films together by examining their quantitative measuring of creatures of various sizes against each other. Combined, both approaches promise an answer to the questions why giant creatures on screen keep getting bigger every year, and what this process of inflationary size means—for giant creatures on screen, and for the culture that never seems to tire of imagining them.
Bio:
Steffen Hantke has edited Horror, a special topic issue of Paradoxa (2002), Horror: Creating and Marketing Fear (2004), Caligari's Heirs: The German Cinema of Fear after 1945 (2007), American Horror Film: The Genre at the Turn of the Millennium (2010), and, with Agnieszka Soltysik-Monnet, War Gothic in Literature and Culture (2016). He is also author of Conspiracy and Paranoia in Contemporary American Literature (1994) and Monsters in the Machine: Science Fiction Film and the Militarization of America after World War II (2016).
Sydney Paige Guerrero
Abstract:
Indescribably Vivid: Lovecraftian Horror in the Manga of Junji Ito
Lovecraft believed that "[t]he oldest and strongest emotion is fear, and the oldest and strongest kind of fear is the fear of the unknown" ("Supernatural"). As such, his monsters were often beyond human conception—frequently described as "indescribable"—with only "imperceptible hints and touches of selective associative detail which…build up a vague illusion of the strange reality of the unreal" (Lovecraft, "Notes"). Attempts to fully render Lovecraftian monsters in visual media often fail because the fear is in the unknown, in knowing enough to understand that what is being described is horrific but not enough to understand the exact nature of the horror. Still, it is possible to successfully execute Lovecraftian horror in visual media, as is the case in the work of the Japanese mangaka, Junji Ito. This paper will examine selected work by Ito as a literalization of Lovecraft's idea that his fiction is "a vivid picture of a certain human mood" (Lovecraft, "Notes"). Rather than focusing on creature creation or the nature of the fantastic, Ito's horror is rooted in the human reaction to an encounter with the fantastic. This paper posits that the horror in Ito's manga stems as much from the unknowable nature of the fantastic as it is in the unknowable ways the fantastic can transform the human, specifically the loss or the warping of humanity. Ito's manga captures the sense of inevitability and hopelessness that pervades Lovecraft's work, but if in Lovecraft this sense is due to being at the whims of cosmic forces that cannot be fully understood, in Ito it is due to being at the whims of the human psyche, which can be equally unknowable in the face of unknowable circumstances. In both cases, the heart of horror is not in describing the indescribable, but in vividly rendering the human. *Note: This would be an expanded version of a presentation originally done in Fantasy 1, Academic Year 2021-2022, Sem 1
Bio:
Sydney Paige Guerrero is a speculative fiction writer, essayist, and the managing editor of an upcoming sourcebook for Philippine Speculative Fiction. She also teaches writing and literature at the University of the Philippines, Diliman, where she graduated with a degree in Creative Writing. Her fiction and nonfiction have won two Nick Joaquin Literary Awards and two Amelia Lapeña-Bonifacio Literary Awards, respectively, and her work has been featured in Daily Science Fiction, Cast of Wonders, The Philippines Graphic, and other venues. Currently, she is pursuing her master's degree in English Literature: Fantasy at the University of Glasgow.
Timothy Miller
Abstract:
Orpheus in the Wasteland: Anaïs Mitchell's "Folk Opera" Hadestown and Satanic Capitalism, The classical myth of Orpheus and Eurydice has had a long history of adaptations in the performing arts, from opera to ballet, and the myth has also been retold countless times in contemporary fantasy and science fiction, with several new adaptations continuing to appear in the last decade or so, from Robert Silverberg's Last Song of Orpheus (2010) to Richard Powers's Orfeo (2014). These two traditions of adaptation converge in Anaïs Mitchell's Hadestown: this paper proposes to examine Mitchell's self-described "folk opera" album (2010) turned Broadway hit (2016, 2019) as a performance adaptation with a particular relationship to various traditions of the fantastic on stage, in music, and in print. The post-apocalyptic landscape Orpheus traverses encodes a critique of capitalist modernity against which the fantastic power of song is counterpoised, with the king of the underworld positioned as "job creator" and wall builder whose rule over his kingdom of production and productivity is anything but a fantasy. Mitchell's Orpheus is a reluctant revolutionary, however, iterated for different audiences in different performance contexts.
Bio:
Timothy S. Miller teaches fantasy and science fiction as Assistant Professor of English at Florida Atlantic University (the birthplace of ICFA!), where he contributes to the department's MA degree concentration in Science Fiction and Fantasy. Recent course titles include "Theorizing the Fantastic" (graduate level) and "Fantasy Literature" (undergraduate level). Originally trained as a medievalist, he has published on both later Middle English literature and various contemporary authors of speculative fiction, and in journals such as Science Fiction Studies, JFA, Mythlore, and Extrapolation.
Tungabhadra Banerjee
Abstract:
Magic, Myth and the 'Perilous Realm' of Fantasy Media: Exploring the World of Xianxia in the Chinese Television Series 'The Untamed' (2019)
A sub-genre of Chinese mystery fantasy, xianxia ('immortal heroes') tales are a riveting combination of traditional Chinese mythology, philosophy and wuxia ('martial arts' fiction). Prolific screen adaptations of online fantasy literature in the early twenty-first century have, however, transformed this genre, that owes its origin to Chinese fantasy classics like 'Journey to the West' (1592) and 'Strange Tales from a Chinese Studio'(1740), into a mainstream trans-cultural phenomenon. 'Chen Qing Ling' or 'The Untamed' (2019), the xianxia series adapted from the online novel 'Mo Dao Zu Shi' (2016) by Mo Xian Tian Xu, with a global viewership of billions on multiple streaming platforms, exemplifies this popular trend. The high fantasy narrative encompasses the journey of magic practitioners Wei Wuxian and Lan Wangji to eliminate evil monsters, retrieve magical artefacts and restore the moral order of the cultivation world. This paper examines the power of Chinese visual fantasy to create a diegetic framework that can sustain this epic saga of magic, friendship and betrayal spanning several decades by exploring the construction of 'secondary worlds' in The Untamed. Drawing on Tolkien's theory of "sub-creation", the complexities of adaptation studies and transmedia storytelling, this paper analyses how the mystical accoutrements of a uniquely Chinese mythosphere reshape the protagonist's archetypical quest in an audiovisual medium. Therein it argues that the sensational aspects of xianxia- flying swords, elaborate period-typical costumes and extravagant setting – are particularly successful in drawing viewers into a poignantly believable imaginary world through the lamina of the small screen. Thus, by extending the scholarship of fantasy media adaptations, and their impact, beyond the determinants of western canon typified by media franchises like 'The Lord of the Rings' (2001-2003) or 'Harry Potter '(2001-2011) ,this paper attempts to situate the cross-media significance of non-Anglophone fantasy texts within the critical purview of the fantastic.
Bio:
Tungabhadra Banerjee is a Postgraduate Student at University of Delhi, India. Her varied research interests include the intersection of gothic fiction and feminine psychology, cultural contexts as well as repercussions of popular literature, and the creation of alternate worlds in contemporary fantasy. In her current research endeavours, she aims to contribute to the emerging scholarship surrounding East-Asian fantasy fiction and the role of new forms of media like web novels, graphic novels and animations in popularizing non-Anglophone texts among global audiences.
Zoe Wible
Abstract:
Fantastic creatures and film form: the example of shot/ reverse shot
Since the dawn of cinema, filmmakers have established a host of formal conventions that have since become very familiar. These conventions modulate the medium's very material, the movement of objects in space, but are mostly based on anthropocentric concerns: they are made to represent human performers, in human-scaled environments. What happens when fantastic films bring in inhuman, supernatural creatures that do not occupy space in the same way humans do? What effects does that have on filmic conventions? I will focus on the example of shot/ reverse shot (S/RS), as analysed by David Bordwell. Bordwell (following Oudart) presents the way this shot structure functions as an inferential process in classical cinema: a character looks offscreen, then a second shot shows another character looking offscreen in the opposite direction, which makes the spectator infer that "the two areas are more or less contiguous and that the characters are looking at each other" (Bordwell 1990, 110). I argue that this structure implies two human performers of roughly the same size. What happens if the characters are not human, and of differing sizes? This paper will use examples from three films to illustrate the variations of S/RS structure in fantasy (The Lord of the Rings), science fiction (Star Trek: Beyond) and fantastic films (Colossal). This paper will invite attendees to reflect on the impact of fantasy as a mode in interaction with a medium: how can fantasy push the boundaries of film? This also has important implications for adaptation studies and transmedia studies more generally.
Bio:
Zoe Wible is a PhD student in Film at the University of Kent. Her research interests include science-fiction and cognitive film theory. Following her master's dissertation on the reception of androids in contemporary television show Westworld, she is now researching the relationship between imaginary creatures and storytelling conventions in visual narrative media. She also draws on recent developments in interactive media and forms of engagement, including video games and online fandom spaces. The provisional title for her thesis is: "Monster schemas and folk biology: A cognitive approach to science fiction characters in contemporary cinema".