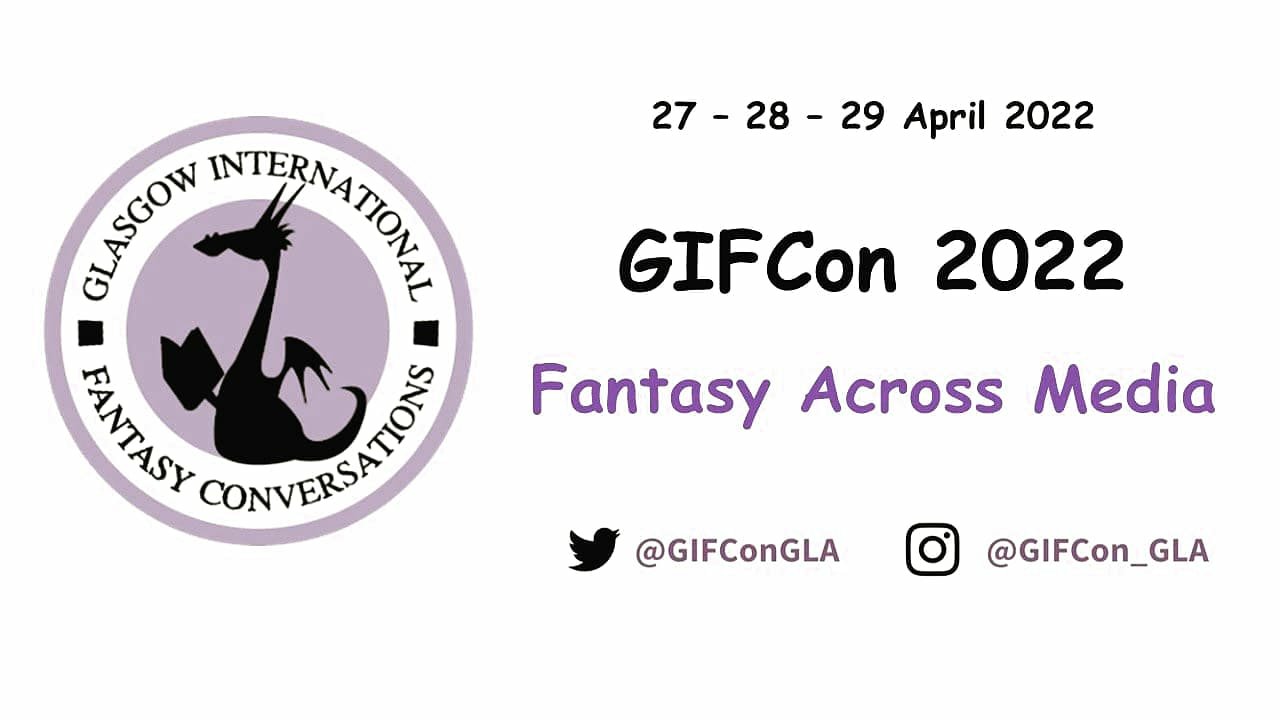 The Programme can be found here.
Abstracts and Speaker Bios can be found here. 
Workshop information are here.
Event registration here.
Roundtable information and Bios can be found here.
Twitter
Instagram
Facebook
Discord
Keynote Bios and Suggested Reading Lists
We are so excited to welcome our three keynotes for GIFCon 2022 Fantasy Across Media who represent a wide range of knowledge on fantasy in other medias. Here you will find each keynote's bios and a short list of suggested readings to get to know these stars a little better before they take the stage at GIFCon to dazzle and amaze us.

Marjorie Liu is a former attorney and novelist, and is the New York Times bestselling author of the Monstress series, illustrated by Sana Takeda. She has also written for Marvel Comics, including Black Widow, X-23, and Astonishing X-Men. Marjorie teaches comic book writing at MIT, and divides her time between Boston, Massachusetts, and Tokyo, Japan.
Website: http://marjoriemliu.com/


Suggested Reading List
Cáel M. Keegan is the Fulbright Canada Distinguished Research Chair of Arts and Social Sciences at Carleton University and Associate Professor of Women, Gender, and Sexuality Studies at Grand Valley State University. He is author of Lana and Lilly Wachowski: Sensing Transgender (University of Illinois Press, 2018) and co-editor of Somatechnics 8.1 on trans cinematic bodies and the JCMS In Focus dossier, "Transing Cinema and Media Studies." His writing has also appeared in Genders, Queer Studies in Media and Popular Culture, Transgender Studies Quarterly, Mediekultur,TheJournal of Homosexuality, The Journal of Cinema and Media Studies, Film Quarterly, and FLOW. Currently, he serves as Special Editor for Arts and Culture at Transgender Studies Quarterly.
Website: https://carleton.ca/transmedialab/people/cael-m-keegan/
Suggested Reading List:
Sense 8 tv series
The Matrix films
Cloud Atlas film
Suggested Reading List:
---
Roundtable Information and Bios
Our Roundtable Research Across Media takes place 10:00 – 11:00 BST on Day 1: Wednesday April 27 2022 on Zoom with the link sent via Eventbrite. A roundtable of researchers discusses the experiences, challenges, and joys of researching fantasy in media beyond literature.
Chair: Dr Matthew Sangster
Deputy: [tbd]
Participants:
Marita Arvaniti is a Greek PhD student at the University of Glasgow, investigating the representations of theatre in contemporary Faery Fantasy literature. She holds a BA in Theatre Studies from the National Kapodistrian University of Athens and an MLitt in Fantasy Literature from the University of Glasgow. Marita is a member of the University of Glasgow's Centre for Fantasy and the Fantastic, and the Administrative Assistant for the Once and Future Fantasies Conference. She is currently working as an archivist with Company of Wolves, a Glasgow based laboratory theatre company, and directs fantasy plays with the amateur theatre group Puck's Players.
Marita's paper "Finding the Cyclolotogorgocircilarizo: Folklore and identity in the fantasy plays of Xenia Kalogeropoulou" can be heard at GIFCon 2022 on the Fantasies of Nation panel on Wednesday 27 April from 14:50 – 16:05 BST.
Parinita Shetty has worked with young people and children's books in India in various ways. She completed her M.Ed in Children's Literature and Literacies from the University of Glasgow in 2017. She is currently a final-year doctoral researcher in the School of Education at the University of Leeds. She launched a PhD podcast called Marginally Fannish to research intersectionality and public pedagogy in fan podcasts. She and her co-participants explored some of their favourite science fiction and fantasy media to co-create intersectional knowledge about differently marginalised and privileged experiences. She should currently be writing but is probably watching Avatar The Last Airbender.
Katarina O'Dette is a Film and Television Studies PhD candidate at the University of Nottingham whose research centres on fantasy television, genre studies, and media industry studies. She received a BFA in screenwriting from the University of Southern California and an MLitt in Fantasy from the University of Glasgow. She serves as a general editor on Mapping the Impossible: Journal for Fantasy Research. Her research can be found in Fantastika Journal, Slayage, A Shadow Within: Evil in Fantasy and Science Fiction, and Extrapolation.
Katarina's paper "It's Not Fantasy, It's HBO: Filtering Genre through Channel Brands" can be heard at GIFCon 2022 on the Modes of Fantasy Production panel on Thursday 28 April from 9:30 – 10:45 BST.
Emma French is a SGSAH-funded PhD student at the University of Glasgow, researching how Dungeons & Dragons (D&D) consolidates our notions of fantasy, while enabling players to subvert established genre conventions. Her work addresses D&D's treatment of race, gender, and sexual orientation; and looks at how players are using the game to address and repair the problematic legacies present within fantasy genre-culture. She graduated from Oriel College, University of Oxford, in 2015, and from the University of Glasgow with an MLitt in Fantasy in 2019.
Emma's paper "'This Was Supposed to be the Evil Game!' – Playful and Critical Subversion in D&D and Dimension 20's Escape from the Bloodkeep" can be heard at GIFCon 2022 on the Playing the Game panel on Wednesday 27 April from 11:25 – 12:40 BST.